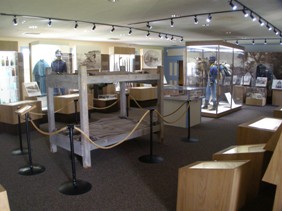 Visitors to Fort Larned National Historic Site have the unique opportunity to tour the nation's best-preserved and best-restored fort from the Indian Wars period. There is a lot to explore and discover at Fort Larned!
You can visit with rangers in the Visitor Center to get information about visiting the site. Tour the museum, watch a 10-minute A/V program, and browse the bookstore. Explore the museum's displays of historic artifacts, profiles of notable people at Fort Larned, and information about the fort.
When you walk the grounds and tour the historic buildings, you might meet living history staff in period dress who will tell you about life at the fort in the 1860s and 1870s. Ranger-guided tours of the fort may be available; groups must call in advance to make group tour reservations.