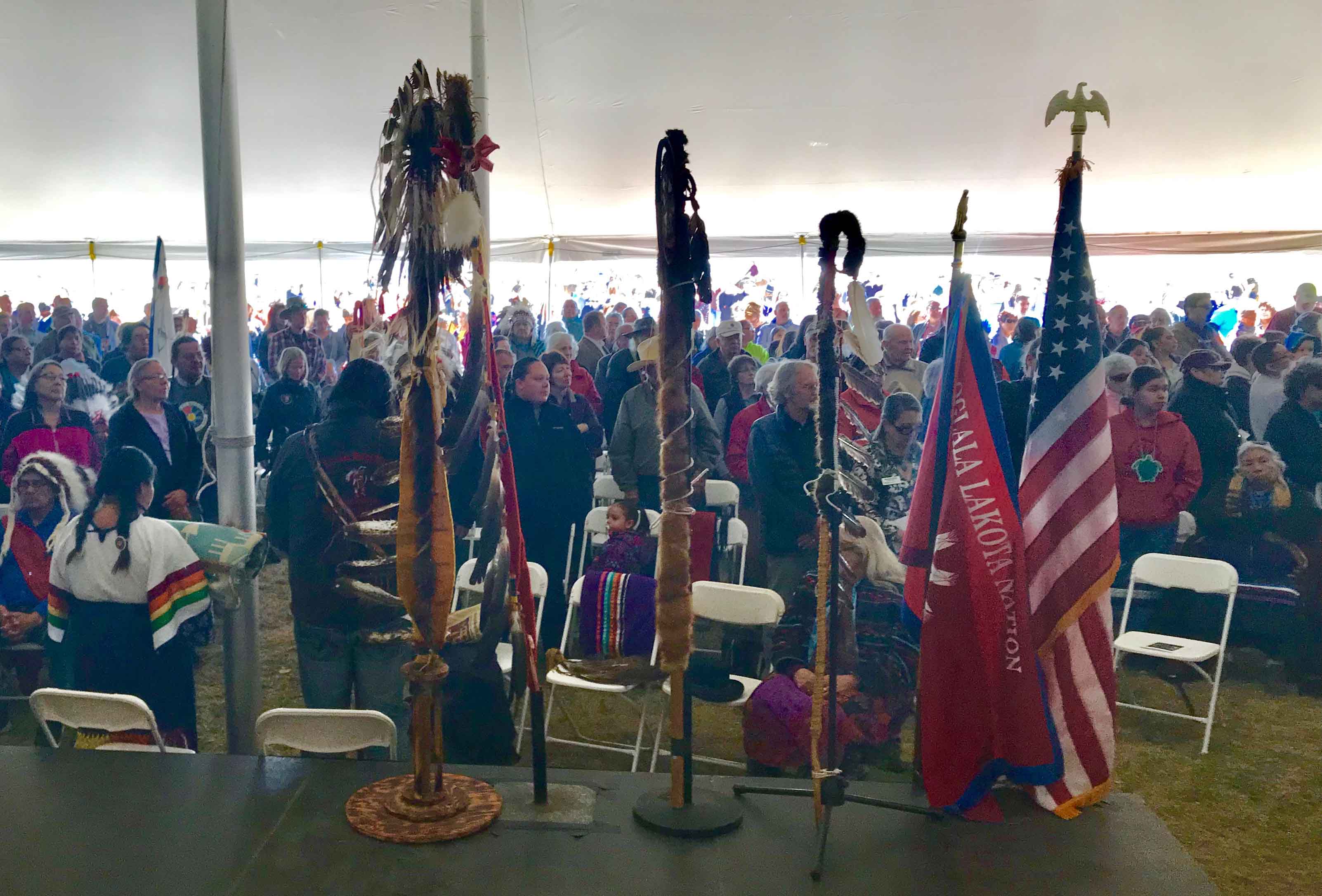 News Release Date:
May 7, 2018
Contact: Eric Valencia, 307-837-2221
Fort Laramie National Historic Site - Two years of planning culminated in a historic gathering at Fort Laramie National Historic Site as thousands of people gathered to honor the spirit of the 1868 Treaty of Fort Laramie. Tribal representatives and descendants of the 13 original signatory tribes of the Treaty came together for a four-day event to remember their families, walking in their footsteps; to reflect on past struggles; and to build a common narrative for the future. Between April 28 and May 1, more than 2,000 Native people joined an encampment at Fort Laramie. Participants arrived from all over the country, some riding in on horseback, walking, or running. Nearly 100 tribes were represented throughout the event.
Park visitors and attendees had opportunities to observe and participate in commemorative activities, traditional ceremonies, and listen in on a multitude of guest speakers including many Native American elders, spiritual leaders, tribal chiefs and council members, and treaty councils. Many were descendants of the original treaty signers from the Lakota/Dakota (Sioux), Arapaho, Cheyenne, and Crow nations. Senator John Barrasso (R-WY), Congressman Liz Cheney (R-WY), and Wyoming Governor Matt Mead were among elected officials that provided remarks for this historic event.
In his opening remarks, Superintendent Tom Baker noted, "We need to work together to ensure this (impacts of the Treaty) never happens again. In fact, we need to do more—we need to work together to improve life for indigenous nations and improve how we work together for the greater good of all people."
Later, Baker remarked, "The commemoration happened the way we hoped while collaboratively planning it for the past two years: honoring the signers, honoring the descendants, and educating tribal youth and non-natives of the importance and continued relevance of the Treaty. I am both humbled and honored to be part of it."
National Park Service Tribal Liaisons Greg Philips, Dorothy FireCloud, Susan Johnson, Bill Tallbull, and Karen Wilde, along with the tireless work of Fort Laramie Park Superintendent Tom Baker and his staff, made this historic gathering a great success.
"This was the first time since the treaty signing, 150 years ago, that all of these tribes have come together. Tribal youth who participated these past four days will be the Elders speaking to the seventh generation for the next coming together - the 200-year commemoration," said Greg Phillips. 
The 1868 Treaty of Fort Laramie affected not only the tribes of the Northern Great Plains, but nearly every indigenous person and community in the United States. Tribal nations consider the Treaty an active, living document. In the 150 years since the signing, the tribes have maintained their cultural values, traditions, and spirituality, proudly proclaiming, "We are still here!"