Safety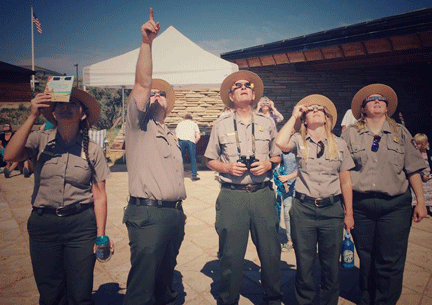 Visitor safety is our priority at Fossil Butte National Monument. Report safety hazards to an employee or volunteer.
Hiking
Wear sturdy, comfortable footwear.

Carry plenty of water.

Protect yourself from the sun and insects.

Be aware of elevation gains and steep downhill sections.

Avoid hiking during thunderstorms. Lightning can be dangerous as far as 10 miles away.

Trails, boardwalks, and bridges are slippery when wet or frosty. Use caution.

Keep dogs on a leash, and pick up their poop.
Driving
Use caution on gravel roads; they may be impassible when wet; loose gravel can cause rollovers.

Some gravel roads are narrow with steep grades (17%).

Drive cautiously and courteously.

Watch for animals on the road, especially at night.

Drive defensively and wear seat belts.

Obey posted speed limits.
Wildlife
Do not approach or feed wildlife.

You are more likely to observe an animal's natural behavior if you are sensitive to its need for space.

Mountain lion and black bear habitat exists in the park. Be observant during your visit and report any sightings or encounters.

If camping on nearby public lands, keep a clean camp, and store food and garbage out of the reach of bears.
Insects
Mosquitoes, deer flies, horse flies, and wood ticks are bothersome in the spring and summer months.

Use insect repellent for protection.
Rattlesnakes
No need to worry about rattlesnakes, they do not live here.

Non-poisonous wandering garter snakes are found near springs and other wet areas.
Pets
Leaving your pet in a closed vehicle during the warm summer days could spell disaster. Open windows more than a crack and check on them often.

Please keep pets under physical restraint at all times and clean up after them.

Do not allow your pet to harass wildlife.
Weather
The weather can change rapidly. It can be 70 degrees F (21 degrees C) one day and 30 degrees F (-1 degrees C) and snowing the next, even in July.

Strong winds are common.

Thunderstorms move in rapidly. Avoid ridgelines and tall trees. Keep your eyes on the sky.

Weather information is available at the visitor center.
Elevation
Monument elevations range between 6,700 and 8,000 feet (2042 and 2438 meters). Be aware of your physical limitations and drink plenty of fluids to avoid the dehydating effects of our dry climate.

Stop and rest frequently.
Emergency
Call 911

Sheriff 307-877-3971

Cell phone coverage is spotty


Last updated: September 25, 2017