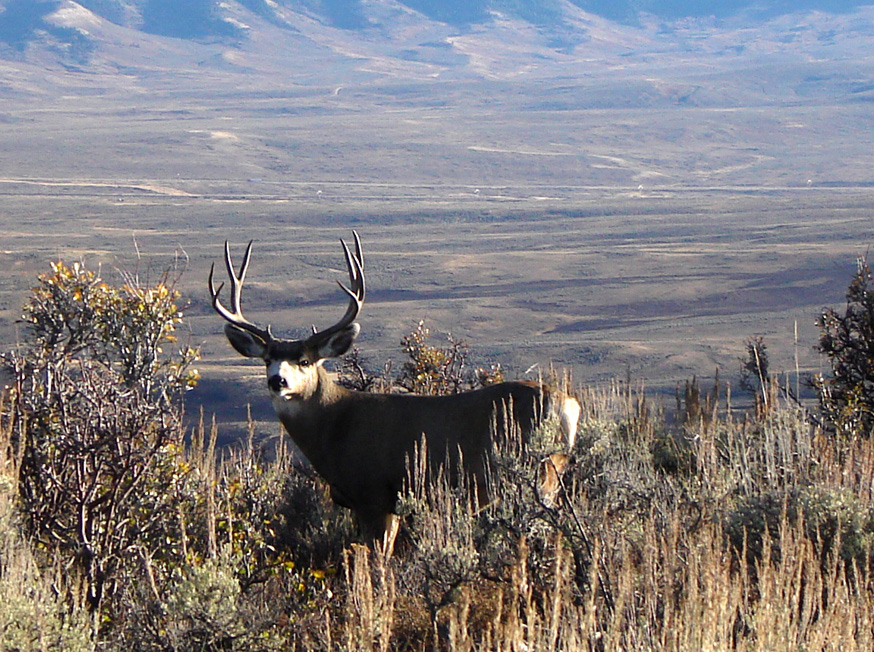 News Release Date:
October 5, 2016
Contact: Marcia Fagnant, 3078774455
With hunting season now occurring on lands surrounding Fossil Butte National Monument, hunters are reminded that hunting is not permitted in the monument. Although most of the monument boundary is well marked, hunters are responsible for ensuring they do not hunt within the monument. By knowing and understanding the rules and regulations applicable in the national monument, hunters will be better prepared to enjoy their trips.
The Lacey Act and the Code of Federal Regulations strictly prohibits the killing or removal of any animal, living or dead, and any animal parts, including shed antlers from public lands within the monument without authorization. Violators will be prosecuted and are subject to penalties including fines, jail, restitution, and the forfeiture of vehicles, equipment, and personal property associated with the violations.
Wounded wildlife that runs into the monument must be reported to the Superintendent, a law enforcement park ranger and the Wyoming Game and Fish Department (WGFD) as soon as practical. To prevent waste, it is permissible to field dress a dead animal inside the monument before authorities arrive, but a living, wounded animal may not be shot inside the monument without first obtaining authorization from the Superintendent, a law enforcement park ranger and WGFD. Contact a ranger at either (307) 877-4455 or (970) 629-5429.
Federal law allows people, who can legally possess firearms under applicable federal, state, and local laws, to possess and carry firearms in Fossil Butte National Monument, but discharge of firearms remains prohibited in the monument. Additional details are available on the web at https://www.nps.gov/fobu/learn/management/lawsandpolicies.htm
Wildlife taken lawfully outside the legislative jurisdiction of the monument may be transported through the monument on the park road. The person(s) transporting the wildlife must have in their possession a valid state hunting license and, if required by state law, the animal carcasses must display a valid, properly completed game tag. Wildlife carcasses and wildlife parts being transported within the monument are subject to inspection at any time by law enforcement park rangers or WGFD personnel. The use of ATVs and UTVs, including those licensed by a state as street legal, within the monument is prohibited.
The use of elk bugles, varmint calls, audio attractants, or other artificial or natural means of attracting or disturbing wildlife (including rattling antlers, coyote, turkey and sage grouse calls, or verbal bugling or howling imitations) are prohibited on all monument land. Spotlighting or use of an artificial light to view wildlife within the monument is also prohibited.
Visitors or hunters who observe illegal hunting activity within the monument should immediately notify a law enforcement park ranger or the Superintendent at (307) 877-4455.
Hunters are also reminded that bears are active in the area in and around the monument. Proper food storage and disposal of trash is important to protect yourself, your camp and property, and the bears.
For more information on Fossil Butte National Monument, call us at (307) 877-4455. You can also follow Fossil Butte National Monument on social media.