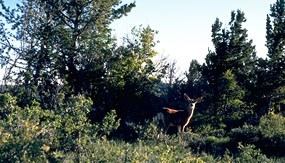 Three sagebrush communites dominate the monument's landscape. The Basin Big Sagebrush type occurs below approximately 7200 feet of elevation on sites with deep, loamy, fertile soils. It is dominated by basin big sage (
Artemisia tridentata
ssp.
tridentata
), bluegrasses (
Poa
spp.) and wheatgrasses (
Elymus
spp.). The Mountain Big Sagebrush type, dominated by mountain big sagebrush (
Artemisia tridentata
ssp.
vaseyana
) occupies sites above 7200 feet having characteristics similar to sites supporting the Basin Big Sagebrush type. Various wheatgrasses, bluegrasses, and forbs are present in the understory. The Alkali Sagebrush type, dominated by low sagebrush (
Artemisia arbuscula
) occurs on deep, clay soils at all elevations. This type occurs on soils with higher salinity and alkalinity than the other sagebrush types.
The Aspen type occurs on mesic sites in these scenarios: along the base of Cundick Ridge and in valleys below springs and seeps, below ridges where the prevailing west wind causes snow accumulation during winters with average (or more) snowfall and wind, and on north-facing slopes which remain in shadow throughout much of the day. The Aspen type is dominated by aspen trees (
Populus tremuloides
).
Mixed Timber type occurs primarily on steep north-facing and east-facing slopes where soils are shallow, and often calcareous. Limber pine (
Pinus flexilis
), Douglas fir (
Pseudotusuga menziesii
), and aspen dominate the Mixed Timber type. Mountain Shrub type occurs on sites similar to those that support the Mixed Timber. It appears to be a successional precursor to the Mixed Timber type because it sometimes dominates burned areas that once supported stands of the Aspen and Mixed Timber types. Also, conifer seedlings are seen in many areas currently supporting Mountain Shrub communities. Mountain mahogany (
Cercocarpos montanus
), Utah serviceberry (
Amelanchier utahensis
), and mountain snowberry (
Symphoricarops oreophilus
) are the dominant shrubs in the Mountain Shrub type.
The Wet Meadow type is dominated by Baltic rush (
Juncus balticus
) and sedge species (
Carex spp.
). Many other forb and grass species are present in the Wet Meadow community. Silver sagebrush (
Artemisia cana
) dominates drier sites, and willow species (
Salix spp.
) sometimes occur in more mesic sites. The Cottonwood and Willow vegetation types occupy, at most, a few acres where seepage or artesian springs keep the soil rather wet. The Saline type is dominated by black greasewood (
Sarcobatus vermiculatus
) and Gardner's saltbush (
Atriplex gardneri
). Saline vegetation is usually sparse, and there are usually patches of barren ground where the soil is encrusted with white deposits of salt.