News Release
Memorial Announces 'Teach to Remember'; Virtual Day of Learning for September 11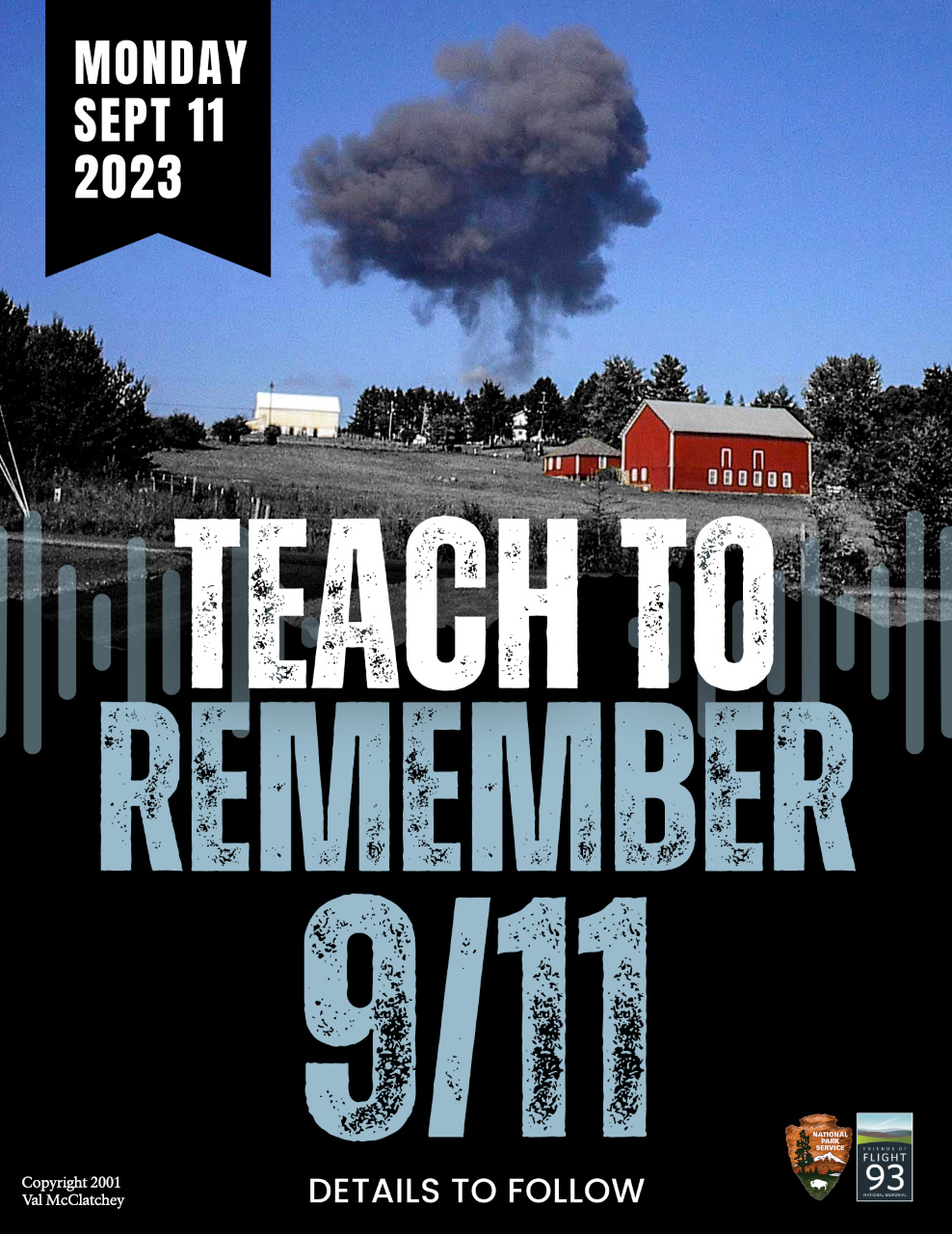 News Release Date:
May 2, 2023
Contact: Katherine Hostetler, (814) 233-8764
Contact: Elizabeth Shope, (814) 449-4125
SHANKSVILLE, Pa. – The National Park Service and the Friends of Flight 93 National Memorial announce, 'Teach to Remember,' a virtual education program, as part of the evolving 9/11 ceremony at Flight 93 National Memorial. Educators can register for the virtual event starting in August 2023. On Monday, September 11, 2023, the park will virtually welcome schools and students from across the United States to join the reading of names and moment of silence.   
"Every year the memorial recognizes September 11 as a day of remembrance and a time to pay respect," said Flight 93 National Memorial Superintendent Stephen M. Clark. "It also provides an opportunity for teaching younger generations about the events of that day."   
"I am grateful to the National Park Service and Friends of Flight 93 for adapting the annual September 11 Observance to reach classrooms while still remembering our loved ones. Teach to Remember welcomes students to connect with 9/11 in their own way," said Emily Schenkel, niece of Flight Attendant Lorraine G. Bay and Board of School Director for the Bethlehem Area School District.  
The virtual learning event will kick off early on the morning of September 11 and feature several classroom sessions throughout the day for grades 6-12. Participating schools will have the opportunity to select from educational programs that suit their curriculum. Registration for the virtual event will open in August 2023. Classrooms can join the live "Moment of Remembrance" at the Wall of Names.   
All programming is free and open to the public. The National Park Service welcomes the public to a thirty-minute name reading to begin at 9:50 a.m. ET from the Memorial Plaza. Each name of the passengers and crew members will be read aloud with the ringing of the Bells of Remembrance.  
A public wreath-laying ceremony begins at 2 p.m. on the Memorial Plaza near the Wall of Names. Please check the memorial's website for additional details www.nps.gov/flni   
Last updated: July 23, 2023