Plan A Field Trip
Update for Field Trips for Summer/Fall 2020:
Due to COVID, the Monument is following federal and state guidelines to keep all visitors and staff safe. The Monument is currently not offering field trips this fall. However, teachers can still contact the Education Coordinator at (719) 464 - 4879 to discuss bringing small groups (under 10 students) and/or to schedule spring field trips.

The Monument is continually developing virtual activities that may help teachers and students. These activities can be found here.




A typical field trip to Florissant Fossil Beds National Monument for K-12:
Activities are dependent on staff availability, number of students attending, and time of year. Some activities can be lengthened and curriculum changed based on the grades of the students.
Field trips typically occur in the spring, April-May, and in the fall, September-November. Most field trips are scheduled Monday – Friday 10 AM to 1PM and must be prearranged & scheduled by the park's education coordinator. Email e-mail us or call 719-464-4879.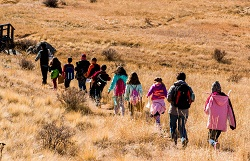 Guided Hikes
Guided hike on the 1-mile
Petrified Forest Loop
. A ranger will greet the students and guide them through an ancient petrified redwood forest, showcasing the iconic fossilized redwood stumps in the park. The ranger will talk about how the
trees
became fossils,
ancient
Lake Florissant, early homesteaders, and the park's early history.
Guided
hike on the ½ mile
Ponderosa
Loop
.
Self-guided or guided walk through a modern Ponderosa forest, look for park wildlife like
Abert's
squirrels and Stellar Jays! Meet a ranger in the old amphitheater for a short talk to learn about local wildlife. View elk antler sheds, furs and pelts from Rocky Mountain wildlife.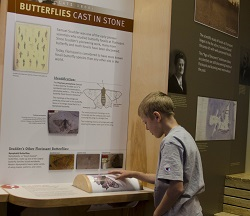 Exploration of Visitor Center
Self-guided exploration of the visitor center exhibit area inside the visitor center. Students can read exhibit panels on climate change and paleontology & look up close at delicate leaf and insect fossils from 34 million years ago. A 15 minute film is also available for up to 25 students at a time.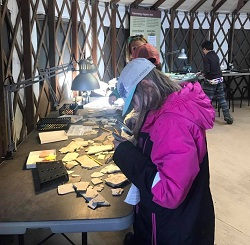 Fossil Learning Lab
Join
a ranger at the
Fossil Learning Lab (in the yurt). Students can look at fossils under microscopes, dig in outdoor sand pits, and play with other interactive fossil learning stations.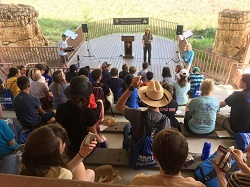 Ranger Talk
Meet with a ranger in the outdoor amphitheater for a 20 minute presentation to learn how giant redwoods turned into stumps of stone.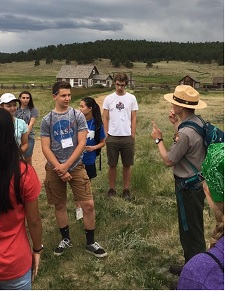 Historic Homestead Tour
Meet
with a ranger for a tour of the 1878
Hornbek
Homestead. Students can walk through the old homestead, tour a carriage house, barn, and root
cellar to gain a glimpse of what life was like over 100 years ago living in the Florissant valley.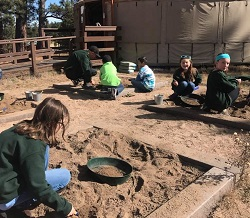 Other activities and curriculum may be offered based on conversations and planning that occurs between teachers and the park's education coordinator. More information on self guided trips can be found
here
.


Last updated: August 7, 2020