Date:
April 22, 2012
Contact:
Paula Valentine
, 631-687-4759
Contact:
Kathy Krause
, 631-687-4772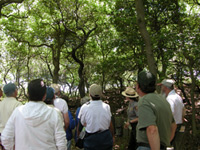 Fire Island National Seashore's annual Teachers Workshop and the second day of the park's biennial science conference both include a field trip to Fire Island to learn more about the outstanding natural resources and current research in the park, and the educational opportunities that exist in the park. Reservations are required for both programs, and the cost is nominal (or free!)
Fire Island's 8th Biennial Science Conference, which will be held this Friday and Saturday, April 27 and 28, 2012, includes a guided field trip from Patchogue to Sailors Haven/Sunken Forest and Watch Hill on Saturday. This program starts at the Patchogue-Watch Hill Ferry Terminal at 8:00 a.m. and the ferry returns by 2:00 p.m. A nominal fee ($5) is collected to help defray the cost of transportation. Registration ends soon and most seats for the day of lectures on Friday have already been filled, but space is still available for those interested in attending the Saturday trip to Fire Island. Call 631-687-5030 or e-mail us for more information.
Fire Island's Annual Teachers Workshop, scheduled for Saturday, May 5, 2012, starts in Sayville at 9:00 a.m. and includes a field trip to Sailors Haven/Sunken Forest, with the ferry returning by 3:30 p.m. This workshop is free, and includes free transportation. Workshop programs this year include a session on barrier island coastal processes, water quality and tips for conducting a tour through the Sunken Forest.
The teachers workshop includes several ideas for hands-on activities that middle and high school teachers can use with their students. "Both of these programs," stated Fire Island's Chief of Interpretation Kathy Krause, "are a great way for any teacher or group leader who is considering a field trip to Fire Island to become more familiar with the park and what it has to offer." Both programs are being conducted before facilities at Watch Hill and Sailors Haven reopen to the public in mid-May. (The Fire Island Lighthouse and Fire Island Wilderness Visitor Center are open all year.) "Even though this workshop takes place at Sailors Haven," said Krause, "it will help prepare teachers for a visit to all sites on Fire Island." Registration is accepted through April 28. For more information, contact the Office of Interpretation at 631-687-4780.
For more information about Fire Island National Seashore, see Planning Your Visit.