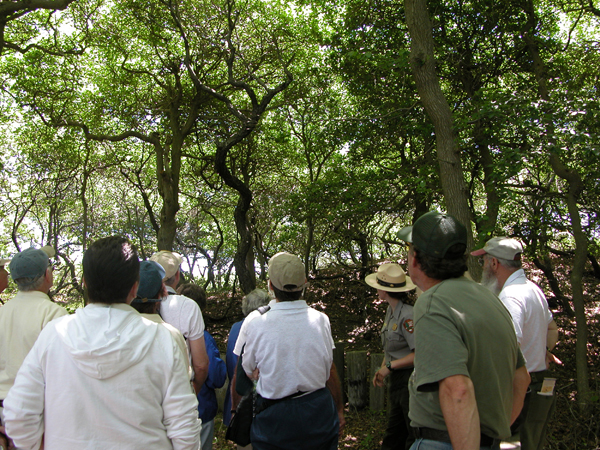 News Release Date:
August 23, 2012
Contact: Paula Valentine, 631-687-4759
This Saturday, the National Park Service (NPS) celebrates the 96th anniversary of its establishment on August 25, 1916. You can join the celebration by visiting one of your local national parks and joining a special ranger-guided tour or program. Fire Island National Seashore (which was added to the National Park System on September 11, 1964) is offering a variety of programs this weekend and into the fall.
"We have regularly scheduled canoe tours at Watch Hill and Sunken Forest tours at Sailors Haven to help you get to know the natural resources preserved and protected in this national park," said Fire Island's Chief of Interpretation Kathy Krause. "Our Junior Ranger: Path to Discovery program this Saturday at 2:00 p.m. at Sailors Haven and at Watch Hill focuses on maritime history, and we're offering a 1½-hour maritime history tour at 4:00 p.m. at the Fire Island Lighthouse this Saturday. The Secrets of the Seashore program will be held at the Wilderness Visitor Center this Saturday at 10:30 a.m.," added Krause. A wide variety of programs is planned each year to appeal to many interests and to represent the broad diversity of park resources. Of course, you may always just visit your local national park for a stroll on the beach, a swim at a lifeguard-protected beach, or a tour of a nationally significant historic site, like the William Floyd Estate (home of one of New York's four signers of the Decalaration of Independence) or the Fire Island Lighthouse (which now displays the rare, original first-order Fresnel lens that was installed at the top of this lighthouse from 1858-1933).
See "What's Happening This Week" for a complete list of programs at Fire Island National Seashore. An expanded Calendar of Events is also available on line.
For More Information: