Fountain Paint Pot Tour Conclusion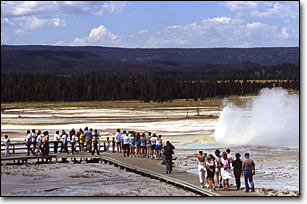 We hope you enjoyed your tour of the Fountan Paint Pot Area. Please re-visit our online tour page in the future for upcoming additions.
In the meantime, to learn more about how geothermal features work, visit our Geothermal Features Page.
---
Technical information about this geyser basin is available through the following non-NPS source.
Yellowstone Geysers - courtesy of David Montieth & Contributors
---
If you are interested in learning more about specific geysers and hot springs in Yellowstone you may wish to buy the book The Geysers of Yellowstone, by: T. Scott Bryan. It is available through the Yellowstone Association's Online Bookstore.
---
If you have time to take another tour please make a selection from our list of online tours.