Wilderness Trip Planner
Plan Your Wilderness Trip Here!
Safely exploring a wilderness by water requires careful preparation and planning. Use this page as a guide to camping in the coastal portions of the Marjory Stoneman Douglas Wilderness. If you require assistance planning your trip, call or stop by the Gulf Coast (Everglades City) or Flamingo Visitor Centers.

Questions on Permits and Reservations? Visit the Wilderness Reservations and Permits Frequently Asked Questions page.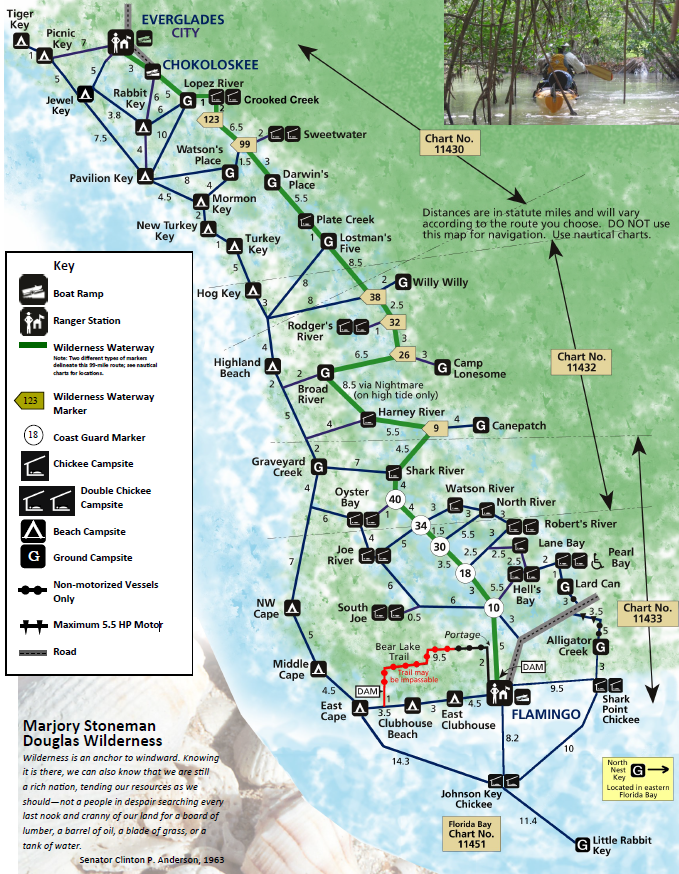 Wilderness Waterway Map
Distances are in statute miles and will vary according to the route you choose. DO NOT use this map for navigation. Use nautical charts.

To view in more detail, right click the image and open the image in a new tab.
Backcountry Campsite Details
The limit for number of nights at a campsite applies to the peak use season from mid-November through late April. Campsite capacities apply year-round, and are subject to change. Campsites must be vacated by noon.
All beach sites have shallow water approach; motor boats use caution.
At all beach sites, camp on the sand along the shoreline only. No clearing of vegetation or camping in the interior.
Nails and stakes are not allowed to be driven into any chickees or the Lostman's Five platform. Use a free standing tent.
Some ground sites may have a picnic table.
* = Facility provided
(I) = May be accessible by foot. Check with the Flamingo Visitor Center on trail status.
(2) = Camping is allowed on backsand spit by toilet. No Gulf side camping
Campsite Name

Type of
Site

No. of
People

No. of
Parties

No. of
Nights

Toilets

Campfire

Dock

Alligator Creek
Ground
8
3
2
Broad River
Ground
10
3
2
*
*
Camp Lonesome
Ground
10
3
3
*
*
Canepatch
Ground
12
4
3
*
*

Cape Sable

East Cape Sable
Beach
60
15
7
*
Middle Cape Sable
Beach
60
15
7
*
Northwest Cape Sable
Beach
36
9
7
*
Clubhouse Beach (1)
Beach
24
4
3
*
Crooked Creek
Chickee
6/6
1/1
1
*
*
Darwin's Place
Ground
8
2
3
*
*
East Clubhouse Beach
Beach
24
4
3
*
Graveyard Creek
Ground
8
2
3
*
Harney River
Chickee
6/6
1/1
1
*
*
Hell's Bay
Chickee
6/6
1/1
1
*
*
Highland Beach
Beach
24
4
3
*
Hog Key
Beach
8
2
2
*
Jewel Key (2)
Beach
8
2
2
*
*
Joe River
Chickee
6/6
1/1
1
*
*
Johnson Key
Chickee
6/6
1/1
1
*
*
Lane Bay
Chickee
6
1
1
*
*
Lard Can
Ground
10
4
2
*
*
Little Rabbit Key
Ground
12
4
2
*
*
Lopez River
Ground
12
3
2
*
*
Lostman's Five
Ground
10
2
3
*
*
Mormon Key
Beach
12
2
3
*
New Turkey Key
Beach
10
2
2
*
*
North Nest Key
Ground
25
7
7
*
*
North River
Chickee
6
1
1
*
*
Oyster Bay
Chickee
6/6
1/1
1
*
*
Pavilion
Beach
24
5
3
*
*
Pearl Bay
Chickee
6/6
1/1
1
*
*
Picnic Key
Beach
16
3
3
*
*
Plate Creek
Chickee
6
1
1
*
*
Rabbit Key
Beach
8
2
2
*
*
Roberts River
Chickee
6/6
1/1
1
*
*
Rodgers River
Chickee
6/6
1/1
1
*
*
Shark Point
Chickee
6/6
1/1
1
*
*
Shark River
Chickee
6
1
1
*
*
South Joe River
Chickee
6/6
1/1
1
*
*
Sweetwater
Chickee
6/6
1/1
1
*
*
Tiger Key
Beach
12
3
3
*
Turkey Key
Beach
12
3
3
*
Watson's Place
Ground
20
5
2
*
*
Watson River
Chickee
6
1
1
*
*
Willy Willy
Ground
10
3
3
*
*
Last updated: January 20, 2021