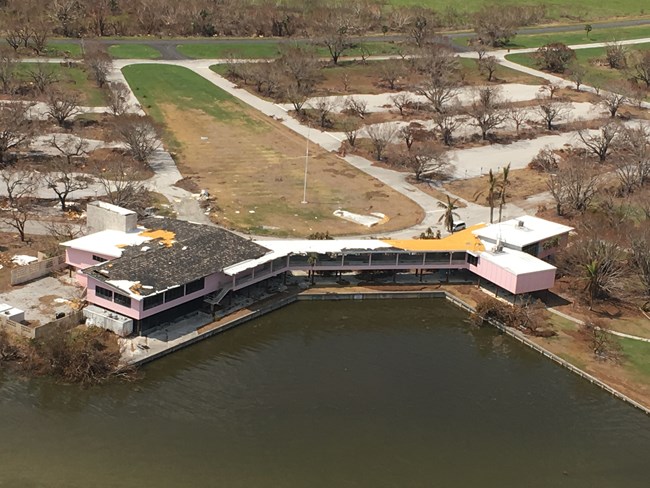 Flamingo is partially open due to damage from Hurricane Irma.
The Flamingo Campground has been partially reopened ONLY at the T-Loop and walk-in camp sites. The rest of the campground remains closed. All other concession services remain closed until further notice. For further campground information, Everglades Guest Services may be contacted at (305) 501-2852.
The park's marine waters are open and backcountry permits for the Flamingo area sites are being issued. Permits can be obtained in the Flamingo Visitor Center from 8 am to 4:30 pm daily. For more information, please visit the
backcountry camping
page.
Clean up and repairs are ongoing in the Flamingo area. The boat ramps are open. The marina store remains closed. Fuel remains unavailable. The Buttonwood Cafe remains closed. The nearest restrooms are by the fish cleaning station near the boat ramp. A very limited supply of drinks and snacks is being offered for sale by the concession in the kayak and canoe rental building.
Ranger led activities have resumed in Flamingo. Visitors can search the
park's calendar
for upcoming programs across the park.
Kayak & Canoe Rentals Now Available
Everglades Guest Services is now offering kayak and canoe rentals for day-use at Flamingo, in the small rental building next to the Marina Store, which remains closed. Rentals are available on a first-come first-served basis between 12:00 PM - 3:30 PM. For more information, please contact Everglades Guest Services at (305) 501-2852.
Boat Tours at Flamingo Suspended
Due to damage caused by Hurricane Irma, concessions boat tours will be suspended until further notice. Accordingly, the concessioner, Everglades National Park Boat Tours, is issuing refunds to visitors who have already purchased tickets. To obtain a refund, please email your request -- and a copy of your purchase confirmation -- to BoatTours@enpbt.com. We look forward to having tours resume soon.