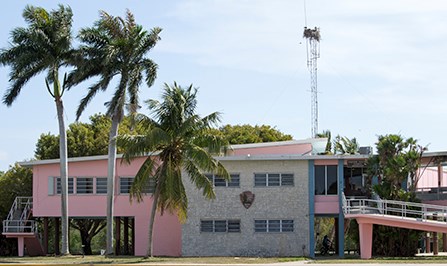 Directions
Physical Address:
1 Flamingo Lodge Hwy
Homestead, Florida 33034
Driving from Miami or North of Homestead:
Take the Florida Turnpike (Route 821) south until it ends merging with U.S. 1 at Florida City. Turn right at the first traffic light onto Palm Drive (State Road 9336/SW 344th St.) and follow the signs to the park
Driving north from the Florida Keys:
Turn left of of Overseas Highway (U.S.1) on Palm Drive in Florida City and follow the signs to the park. The Flamingo Visitor Center lies roughly 38 miles south of the park main entrance. Visitors should expect to drive about an hour before arriving at Flamingo.
Would you like to map out your directions?
Searching for Everglades National Park via Google can get you driving directions. Approximate GPS coordinates: 25°08'28.96" N 80°55'25.73" W. GPS systems do not always route to Flamingo Visitor Center by name search.
*NOTE: Visitors arriving by UBER / LYFT / Similar transportation services
Access to the rest of the park by using these services will be extremely limited, as facilities along the main park road can be miles apart. Due to the remoteness of this area we are finding that visitors arriving by UBER/LYFT/or similar transportation are unable to acquire a return pickup, we suggest checking with your driver for return arrangements or have an alternative taxi option. There is no other public transportation to this site.