Flamingo Visitor Center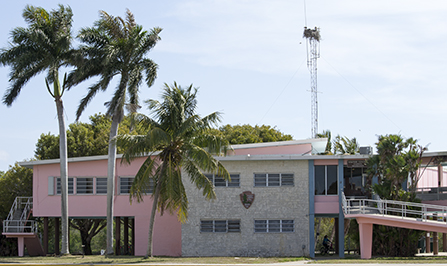 Directions to the Flamingo Visitor Center
Visitors coming from the Miami area and points north should take the Florida Turnpike (Route 821) south until it ends, merging with U.S. 1 at Florida City. Turn right at the first traffic light onto Palm Drive (State Road 9336/SW 344th St.) and follow the signs to the park.

Visitors driving north from the Florida Keys should turn left on Palm Drive in Florida City and follow the signs to the park.
The Flamingo Visitor Center lies roughly 38 miles south of the park main entrance. Visitors should expect to drive about an hour before arriving at Flamingo.
Would you like to map out your directions?
Search for Everglades National Park via Google or MapQuest can get you driving directions.
Approximate GPS coordinates: 25°08'28.96" N 80°55'25.73" W

GPS systems do not always route to Flamingo Visitor Center by name search.
Hours of Operation
8am - 4:30pm mid-November through mid-April
No regular hours off season (Mid-April through mid-November) as Visitor Center staffed intermittently
Lobby can be accessed 24 hours for backcountry site self-registration during the summer season.
Hours are subject to change. Contact Flamingo Visitor Center by phone 239-695-2945.
Amenities
The Flamingo Visitor Center offers educational displays, informational brochures, and backcountry permits. Campground facilities, a public boat ramp, a marina store, and other hiking and canoeing trails are located near the visitor center.
Buttonwood Cafe
The cafe is open seasonally in winter. Plan ahead for food and other needs- Flamingo has minimal services available. Visitors traveling to Flamingo through the main entrance or by boat, need to bring adequate food and water unless planning to eat at the cafe or pick up basic supplies at the marina.
Flamingo Marina Rentals and Boat Tours (239) 695-4901
Houseboat, canoe, kayak, bicycle rentals and boat tours are available through the marina store. Restrooms are available.

Marina Store Hours: Mon-Fri 7am - 5:30 pm, and Sat-Sun 6am - 5:30 pm.
Fuel Sales: 7am - 5:30 pm daily
The marina is open year round. Sandwiches, beverages, basic camping and fishing supplies, and souvenirs are also available here.
Note: Other than the campground, lodging is not available in Flamingo due to damage sustained by Hurricanes Katrina and Wilma in 2005.


Last updated: June 9, 2017