Shark Valley Ranger Guided Tours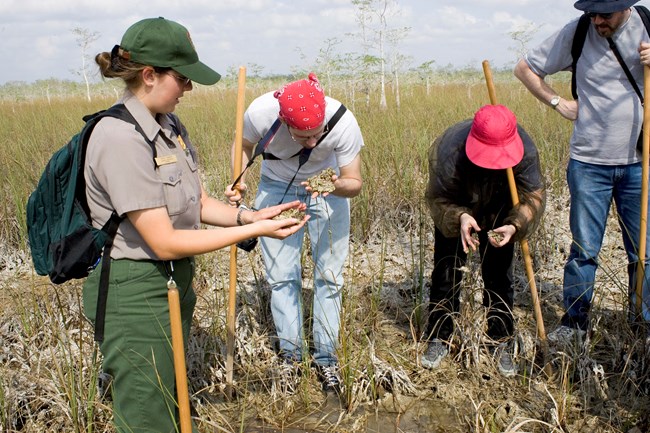 Shark Valley District:
Join a ranger on a tour!
Shark Valley offers many exciting ranger guided tours! These programs can vary greatly by season, and are subject to rescheduling or cancellation in the case of inclement weather.

Check our park calendar to see scheduled programs. You can also check the current status of programs by calling the Shark Valley Visitor Center (305) 221-8776 or the main park line at (305) 242-7700.


Program Descriptions
Below are summaries of all ranger-led programs available at Shark Valley. Most programs are only offered in the Dry Season (Mid December - April). Programs are free with park entrance fee unless otherwise noted.
Soar, Swim and Stroll (9:15 Daily December 18-April 30)

Join a park ranger or volunteer for a stroll around Shark Valley. Come learn about how the animals swim, soar, slither, stalk and survive. Topics can include history, wildlife, native plants and other unique factors that make the Everglades a special place. 45 minutes. Wheelchair accessible. Inquire at the visitor center for starting location

Flora, Fauna and Fun

(offered year-round, inquire at visitor center)

The Everglades story is a complex tale of plants, animals, water, and history. Join us for a short talk and get an in-depth glimpse of the Everglades. 30 minutes. Wheelchair accessible.

Shark Valley Slough Slog (Reservations Required, offered January through April)

Trails crisscross the slough, a slow-moving river, that forms the Basis of the Everglades. Join a ranger to immerse yourself in the "River of Grass". Be prepared for a walk through knee-to waist deep waters, muddy conditions, uneven terrain and plenty of sharp sawgrass. Pants, close-toed shoes and hiking pole (provided) are required.

Reservations will be taken 1 week prior to the scheduled walk. All participants must be at least 12 years old. Call 305-221-8776 for more information. 2 hours.

Dates: January 2, January 8, January 16, January 29, February 5, February 26, March 20, April 3.

Glades Biking in the Morning (Reservations Required, offered January through April)

Join a ranger on a scenic bicycle tour of the Shark Valley Bicycle Loop and learn about the various ecosystems, wildlife and cultural history of the Everglades. Total distance is 15 miles. Participants can bring their own bike or bikes may be rented from the Shark Valley Tram Concessionaire directly by visiting their website www.sharkvalleytramtours.com . Tour begins at 9am. Approximately 3 hours.

Reservations are required and will be taken 1 week prior to the scheduled ride. Call the Shark Valley Visitor Center at 305-221-8776

Dates: January 9, January 30, February 20, March 13, April 10

Full Moon/New Moon Bike Ride (Reservations Required, offered December through April)


Watch an amazing sunset over the sawgrass prairie. Listen to the Everglades "night symphony" as the full moon climbs slowly into the sky. Climb the observation tower to enjoy the mystery and to feel the magic of the Everglades at night. Join a park ranger for an evening 15-mile bike ride in the dark. (approx 3 hours tour begins at 5:30)

Your own bicycle is required. Reservations are required and will be taken 1 week prior to the scheduled ride. Call the Shark Valley Visitor Center at 305-221-8776.

Dates: December 18, January 1, January 15, February 18,
March 4, March 18, April 1, April 16

Shark Valley Tram Tours (Reservations Recommended, offered year round)

Find yourself immersed in the "River of Grass", the very heart of the Everglades. Chances to see alligators, wading birds, and other wildlife in their natural habitat abounds. Narrated by a park ranger or park naturalist. For reservations, pricing, and additional information, call (305) 221-8455. Reservations recommended. Trams offered hourly December 18-April 30. Visit www.sharkvalleytramtours.com
Last updated: December 9, 2021