Shark Valley Ranger Guided Tours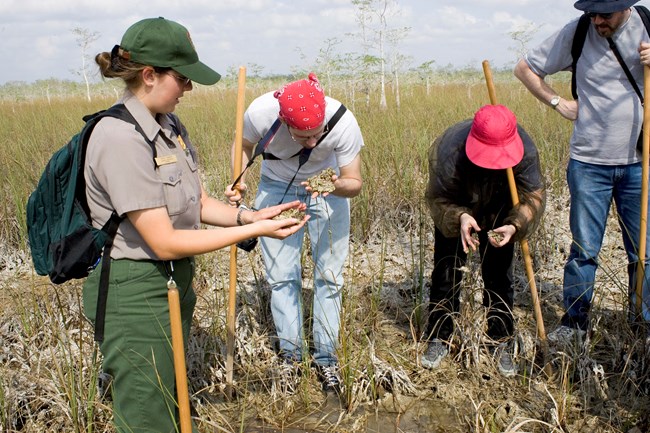 Shark Valley District:
Join a ranger on a tour!
Shark Valley offers many exciting ranger guided tours! These programs can vary greatly by season, and are subject to rescheduling or cancellation in the case of inclement weather.

Check our park calendar to see scheduled programs. You can also check the current status of programs by calling the Shark Valley Visitor Center (305) 221-8776 or the main park line at (305) 242-7700.


Program Descriptions
Below are summaries of all ranger-led programs available at Shark Valley. Most programs are only offered in the Dry Season (November - April). Programs are free with park entrance fee unless otherwise noted.
Ranger Walk (currently postponed)

Join a park ranger or volunteer for a stroll around Shark Valley. 45 minutes. Wheelchair accessible. Meet at the viewing platform.

Everglades Exploration

(offered year-round, inquire at visitor center)

The Everglades story is a complex tale of plants, animals, water, and history. Join us for a short talk and get an in-depth glimpse of the Everglades. Meet at the benches near the viewing platform. 30 minutes. Wheelchair accessible.

Wild Walk in the Wilderness! (Reservations Required, offered December through April)

Want to try something different? How about "off-roading"? Want to test yourself against the Everglades in the summer? A park ranger or volunteer will lead you through Shark River Slough using your feet as your "wheels" for a great adventure! Be prepared for high water levels, insects and mosquitoes. Reservations are required and children must be at least 12 years old. Call 305-221-8776 for more information. 2 hours.

Walk in the Dark - Everglades at Night (Currently postponed, usually offered December through April)

Join a ranger as you hike through the trails of Shark Valley at night and learn about the ecosystems of the Everglades along with the human history. Reservations will be taken 1-week prior to the walk. Call 305-221-8776 for reservations.

Glades Biking in the Morn' (Reservations Required, offered December through April)

Explore the subtleness of the wetlands as the morning light wakes up its inhabitants, birds, turtles and alligators sunning themselves along your path. Join a park ranger or volunteer for a 15-mile bike ride out into Shark River Slough. Bring your own bicycle or rent one from the concession. Meet on the back side of the visitor center by the benches. Approximately 3 hours.

Full Moon Bike Ride (Reservations Required, offered December through April)

Join a park ranger for a bicycle ride under the stars and light of a full moon. Leave the city lights behind and listen to the sounscape of the night. Bring your own bicycle. Bicycle ride will last approximately Reservations required one week in advance. For more information call 305-221-8776

Tamiami Trail "Try"Athlon (offered year-round as self-guided)

The best part of the Everglades are off the main road! For those that want to do and see it all, join a ranger-led all day trip (ranger-led trips are December through March, however they have been discontinued until 2022) through some of the highlights of South Florida. The day will start at the Gulf Coast with a canoe trip in the mangrove estuary, followed by a hike through Big Cypress and then finish with a bike ride through the saw grass prairie at Shark Valley. Be prepared with plenty of water, food, and protection from the elements! Canoes will be provided free of charge. Bring your own bicycle or rent one at Shark Valley. Call (239) 695-3311 to make reservations up to 14 days in advance.

Shark Valley Tram Tours (Reservations Recommended, offered year round)

Find yourself immersed in the "River of Grass", the very heart of the Everglades. Chances to see alligators, wading birds, and other wildlife in their natural habitat abounds. Narrated by a park ranger or park naturalist. For reservations, pricing, and additional information, call (305) 221-8455. Reservations recommended.
Last updated: February 23, 2021