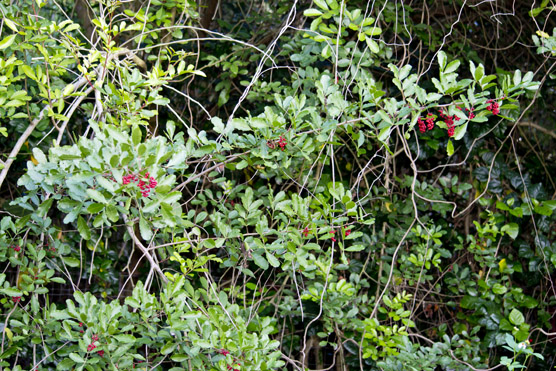 News Release Date:
January 29, 2013
Contact: John Souva, 305-242-7040
Contact: General Park Information, 305-242-7700
Contact: Mary Plumb, 303-242-7714
HOMESTEAD, FL: On Saturday, February 02, 2013, Everglades National Park will host a volunteer event to promote World Wetlands Day and habitat restoration by removing invasive plants in the Hole in the Donut restoration area. Before its designation as a National Park, the Everglades were farmlands in which an exotic plant, Brazilian Pepper, was used to aerate the soil. Left unchecked, the invasive plant flourished and now volunteers are needed to pull up new shoots by hand and use loppers, hand clippers, and handsaws to eradicate it. Volunteers will restore original habitat and make a world of difference for local wetlands.
The Everglades was designated as aWetland of International Importanceon June 4, 1987. The Convention on Wetlands (signed in 1971 in Ramsar, Iran), is an intergovernmental treaty which provides the framework for national action and international cooperation for the conservation and wise use of wetlands and their resources.
Volunteers will meet at the Ernest F. Coe Visitor Center parking lot at 8:30 a.m. before caravanning to the Daniel Beard Center. Be prepared for hot and humid weather. Participants are required to wear long-sleeved shirts, sneakers, and long pants to protect against exposure to sun, biting insects, poisonwood, and ivy. Please bring a lunch, refillable water bottle, hat, and sunglasses. Plan to get your feet wet. Participating volunteers will receive a free entry pass, enabling each volunteer to visit the Everglades again with their family and friends.
Directions: 
Ernest F. Coe Visitor Center:  40001 SR 9336, Homestead, FL 33034
From the Miami area and northern destinations, take the Florida Turnpike (Route 821) south until it ends merging with U.S.1 at Florida City. Turn right at the first traffic light onto Palm Drive (State Road 9336/SW 344thSt.) and follow the signs to the park. The Ernest F. Coe Visitor Center will be on the right. Volunteers driving north from the Florida Keys should turn left on Palm Drive in Florida City and follow the signs to the park.
About the National Park Service. More than 20,000 National Park Service employees care for America's 395 national parks and work with communities across the nation to help preserve local history and create close-to-home recreational opportunities. Learn more at