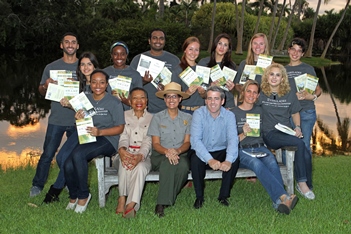 News Release Date:
October 10, 2014
Contact: General Park Information:, 305-242-7700
Contact: Sabrina Diaz, 305-242-7754
Contact: Linda Friar, 305-242-7714
HOMESTEAD, Florida: Everglades National Park is pleased to announce the university students selected to participate in the Everglades Wilderness Writing Expedition- a new and innovative program that will connect aspiring local writers to the Everglades wilderness while creating future park stewards. These students, all from south Florida Universities, will participate in the adventure of a lifetime!
When asked in the application "What do you think of when you hear the word "Wilderness?" their answers ranged from "Lions and Tigers and Bear, oh My!" to quoting Henry David Thoreau. A spectrum of answers yet all the students had one commonality: they are all searching for an experience that removes them from traffic, cars, noise, smog and other urban norms. They all want to experience "wilderness", and not just any wilderness, but the one that exists right in their community; the Everglades.
"This program is a great opportunity for the park to inspire the future stewards of America's natural and cultural resources. I look forward to hearing about their adventure in our wilderness," said Acting Superintendent Bob Krumenaker.
The students selected were recognized at a recent reception held at the beautiful Fairchild Tropical Gardens and sponsored by the South Florida National Parks Trust. Students and their families were inspired by talks on writing about the environment from well-known authors on the Everglades and National Parks; Michael Grunwald and Audrey Peterman.
The following students were selected:
·         Florida International University: Alexandra Mosquero, Bryan Palacio, Ziggy Pastor, Alina Rafikova, Sandeep Varry, and Nicole Zummar
·         University of Miami: Nadijah Campbell, Natasha Mijares and Dylann Turffs
·         Florida Atlantic University: Stephanie Reed
·         Miami Dade College: Johanna Piard
Over the next six weeks these lucky 10 students will delve into the mysteries and beauty of the Marjory Stoneman Douglas Wilderness of Everglades National Park. The student writers will participate in a series of wilderness day trips that will have them hiking, slogging, and paddling through the wild landscape of the Everglades. Their final journey will be a multi night expedition, led by North Carolina Outward Bound, author and poet Anne Mcrary Sullivan and park staff. Their contribution for this adventure will be documenting their experience and sharing their stories with millions of people in the local south Florida community. The project highlights the 50th anniversary of the passage of the Wilderness Act in 1964.
This program has been made possible through generous donation of the National Park Foundation, and The South Florida National Parks Trust, and through in kind support from North Carolina Outward Bound School, University of Miami, Florida International University, Florida Atlantic University, South Dade News Leader and Fairchild Tropical Gardens.
To learn more about this program read our blog at www.evergladeswildernesswritingexpedition.blogspot.com
At 1.3 million acres the Marjory Stone Douglas Wilderness Area in Everglades National Park is the largest wilderness area east of the Rocky Mountains. 
 
WHAT:     University students selected to participate in the Everglades Wilderness Writing Expedition
WHEN:       A series of activities culminating with a panel discussion November 14on their experiences.           
WHERE:    Marjory Stone Douglas Wilderness Area in Everglades National Park