volunteers gather at Key Largo for day of service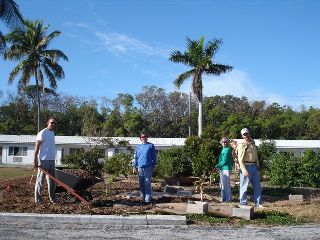 News Release Date:
July 2, 2009
Contact: Bridget Litten, 305-852-0324 Ext 0338
Contact: Linda Friar, 305-242-7714
Key Largo, Florida   In response to President Obama's call to the nation for a Day of Service, volunteers gathered at the Key Largo Ranger Station and Science Center in Key Largo.  Since late August 2008, volunteers have met regularly each week to maintain the native plant areas.  Recently volunteers concentrated their efforts on spreading mulch around the native vegetation. 
Two years ago, a native landscaping project was started by Bob Showler, an ecologist working for National Parks Service.  In three separate plantings in 2007 and 2008, over 256 native trees, shrubs, ground covers, and vines were planted by staff/volunteers from AmeriCorps   Plants were donated by the Native Plant Nursery at Dagny Johnson Largo Hammock Botanical State Park in Key Largo and include threatened and endangered species. 
Plant beds located in front of the offices were planted with native shrubs, ground covers, and vines, many of which attract butterflies and songbirds.  The center area, originally devoid of plants, was also planted with native vegetation and will mature into a tropical hardwood hammock.  Adjacent to the offices is a mature, nine acre tropical hardwood hammock, with five national champion trees.  Champions are the largest trees for the 826 species listed by the American Forests' National Register of Big Trees.
 These volunteers have donated approximately 75 hours.  Volunteer Audrey Smith says of her service, "I like to do things to the advantage of the environment.  This is a time when the country is in need of help and every individual should do their part.  It's also interesting to work with volunteers of different age groups."    Rob Clift of National Parks Conservation Association added, "It's great that the local community volunteers have donated their time on this native landscaping project.  It helps bring awareness that Everglades National Park is in our back yards."
The Key Largo Ranger Station and Science Center is not open to the public, however if there is interest in seeing this planting project please email Bridget_Litten@nps.gov.  For additional information on volunteering at Everglades national Park see https://sercms.nps.gov/ever/supportyourpark/volunteer.htm. 
-NPS –
Last updated: April 14, 2015