Vintage Everglades Day 2012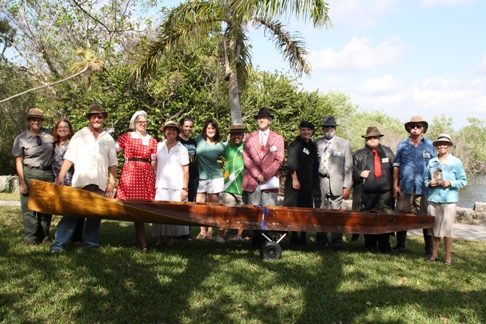 News Release Date:
February 9, 2012
Contact: General Park Informatin, 305-242-7700
Contact: Media Contact Linda Friar, 305-242-7714
Contact: Interview Contact Christiana Admral, 305-242-7754
 Mark Your Calendars for the 2nd Annual
"Vintage Day" Celebration at Everglades National Park!
Come experience Everglades history at the 2nd annual Vintage Day Celebration on Saturday March 3rd, 2012 from 10 AM to 3 PM. Park admission at the Homestead entrance will be waived for the day and all activities are free of charge.Events include historical re-enactors, an old fashioned ice cream social and the Guardians of the Everglades exhibit.This is a great opportunity for young and old to interact with the characters that molded Everglades National Park into one of the most biologically and culturally diverse parks in the world.
At the Ernest F. Coe Visitor Center celebrate the opening of Nicholas Petrucci's multi-media exhibition featuring life-size oil portraits of Everglades advocates and heroes.Portraits of Miccosukee Chairman Buffalo Tiger, Gladesman Franklin Adams, Photographer Clyde Butcher and Statesman Nathaniel Reed will be on display against a backdrop of Connie Bransilver's paintings of endangered native orchids.
At Royal Palm, interact with historical re-enactors portraying Calusa and Seminole people, gladesmen, plume hunters, early park wardens, botanists, artists, gator hunters,women conservationists, and political activists.Their stories will bring you back to the days of old.Collect a limited edition vintage character trading card from each re-enactor.
Guided tours of the old Royal Palm State Park are also available. This historical area was owned and protected by the Florida Federation of Women's Clubs members. These genteel women activists provided the vision while the Civilian Conservation Corps supplied the muscle to develop a world class tourist destination which became the nucleus of Everglades National Park. A Civilian Conservation Corps enrollee will reveal remnants of this old Florida paradise.
Cool down at an old-fashioned ice cream social complements of the Everglades Association.Don't forget to bring your camera!
Fees and Directions:
This is a fee free day at the Homestead entrance of Everglades National Park.Fees will be collected at the other park fee station at Shark Valley.
Visitors coming from the Miami area and points north should take the Florida Turnpike (Route 821) south until it ends merging with U.S. 1 at Florida City. Turn right at the first traffic light onto Palm Drive (State Road 9336/SW 344th St.) and follow the signs to the park. Visitors driving north from the Florida Keys should turn left on Palm Drive in Florida City and follow the signs to the park.
-NPS-
Notes to Media: Photos available on request or at https://www.flickr.com/photos/evergladesnps.Look for Vintage Day folder.
Character interviews available in advance.Vintage 2011 cast of characters -Gladesman, Ligger's wife, May Mann Jennings, Land Developer, Al Capone's gal, Al Capone, Al's right hand man, Marjory Stoneman Douglas and more Contact Christiana Admiral at 305-242-7754.
Last updated: April 14, 2015