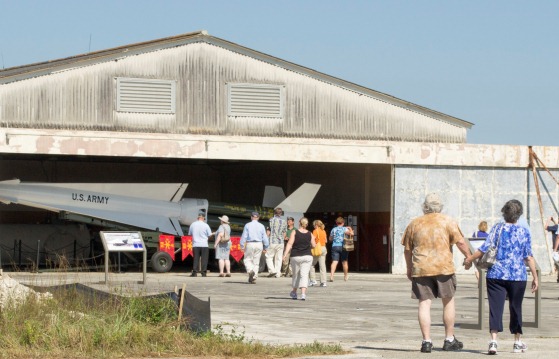 News Release Date:
October 18, 2012
Contact: General Park Information, 305-242-7700
Contact: Project Manager Ryan Meyer, 305-242-7015
Contact: Media Contact Linda Friar, 305-242-7714
As part of the 50th commemoration of the Cuban Missile Crisis, Everglades National Park is hosting a special tour on Sunday, October 21, 2012, for U.S. Army veterans who served at Nike missile sites around the country as a result of the Cuban Missile Crisis in October 1962.
Park Superintendent Dan Kimball will greet the veterans and accompany them on a ranger guided tour of the historic U.S. Army Nike Hercules Missile Site HM-69, located in the middle of Everglades National Park.
Former Army Nike Missile Base soldiers will be coming from twenty-one states to share their memories of when the Nike Hercules missiles served as a deterrent to Russian bombers during the pinnacle of the Cold War. Nike Missile veterans and Everglades National Park personnel will be available for media interviews.
What: Press availability for interviews and photos with Army veterans who served during the Cold War, and with representatives from Everglades National Park, at the historic U.S. Army Nike Missile Site HM-69.
When: Sunday, October 21, 2012, 10:00 a.m.- 2:00 p.m. Program begins at 10:00 a.m., with tour departing, at 10:30 a.m. The event will conclude at 2:00 p.m.
Where: Everglades National Park, 40001 State Road 9336, Homestead, Florida 33034. Tour begins with welcome event at Ernest F. Coe Visitor Center, ten miles southwest of Homestead, FL, and then moves to the Park's historic Nike Missile Site.
Background: Everglades National Park houses one of the nation's best preserved relics of Cold War history at the Nike Missile Site HM-69, a U.S. Army military base that was originally part of a larger missile defense system built in south Florida in response to the Cuban Missile Crisis. The missile base is now listed on the National Register of Historic Places. This event coincides with a Nike Missile veteran's reunion being held in Miami on October 20, at the Marriott Miami Airport. On October 21, a special tour for these veterans is being provided at Everglades National Park. The veterans will have the first opportunity to view Nike Hercules missile equipment that has recently been donated to the Park, including a restored 41-foot Nike Hercules missile (shell) that was refurbished by students at George T. Baker Aviation School in Miami. Parts of a second Nike Hercules missile, donated by Golden Gate National Recreation Area, are displayed at the site as if they are components being assembled.
The Nike Missile Site HM-69 is the best remaining example of four facilities constructed in south Florida. Although Everglades National Park was primarily established to protect wildlife, in response to the gravity of the situation, park managers issued the U.S. Army a permit to build the base within the park. In 1966, "A" Battery moved from muddy farm fields just outside the park, to the permanent missile site, inside Everglades National Park.
Public tours of the site will be offered on Sundays beginning October 28 through December 15, from 1:00 p.m. - 3:30 p.m. Reservations are required; by calling 305-242-7700. Regular daily tours will commence December 15, at 11:00 am through the end of April 2013.