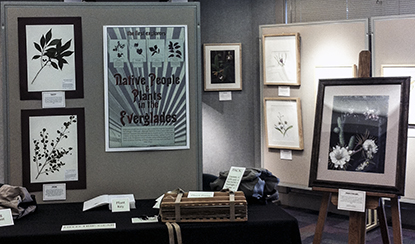 News Release Date:
November 6, 2013
Contact: General Park Information, 305-242-7700
Contact: Media Contact:  Linda Friar, 305-242-7714
Contact: Mary Plumb, 305-242-7017
 HOMESTEAD, Florida: Tropical Botanic Artists is presenting an exciting new exhibit through November at Everglades National Park. "Botanical Exploration in the Everglades" features watercolor portraits, a documentary film, and informative panels by Everglades National Park Botanist Jimi Sadle.
The exhibition features 27 original watercolor portraits of plants discovered in the Everglades by 19th and 20th century botanists, and designated with common and scientific names that reflect those intrepid plant explorers.
Artist Kathleen Konicek-Moore and Everglades National Park Botanist Jimi Sadle co-curated the exhibition, which is supplemented by a documentary film by local videographer Eric Raits. The film is about early botanists who braved the biting insects, large reptiles, and poisonous plants that made the Everglades one of the country's last frontiers of botanical exploration.
Included in the show are informative panels about botanical exploration and field collecting, how plants are named, and the ways Everglades plants were used by native peoples.
Tropical Botanic Artists is a collective of local watercolorists established in Miami, Florida, in 2006 to pursue the beauty of tropical plants through art. Its members come from all walks of life and each brings a unique viewpoint to the botanical subjects they portray. For more details, please visit www.tropicalbotanicartists.com,or contact Kathleen Konicek-Moran konmor@comcast.net, or Susan Cumins at 305 447-1400 orscumins@bellsouth.net
WHAT:  November Art Exhibit at Everglades National Park  "Botanical Exploration in the Everglades"
WHEN
: Through 

November 30

   
 Gallery open same hours as Visitor Center open 

9 A.M. to 5 P.

M.
WHERE:   Just minutes away from Miami and Homestead ….Ernest F. Coe Visitor Center is located at 40001 State Road 9336, approximately 10 miles southwest of Florida City. It features award-winning natural history displays, an 18-minute film about Everglades National Park, and related book sales. Center hours are 9 A.M. to 5 P.M. daily. Admission to the visitor center is free. For information and directions to the park call (305) 242-7700. More information on Everglades National Park can be found on the park website at https://www.nps.gov/ever/
This and other park releases are available at www.nps.gov/ever/parknews/newsreleases.
-EVER-
Everglades National Park designated a UNESCO World Heritage Site in 1979. It was among the first of 21 sites in the United States that received this international designation, given to important natural and cultural resources around the world. World Heritage sites demonstrate the importance, for all the peoples of the world, to safeguard a unique and irreplaceable property. For more information about World Heritage sites, please visithttp://whc.unesco.org/en/about/
About the National Park Service: More than 20,000 National Park Service employees care for America's 401 national parks and work with communities across the nation to help preserve local history and create close-to-home recreational opportunities. Learn more atwww.nps.gov.