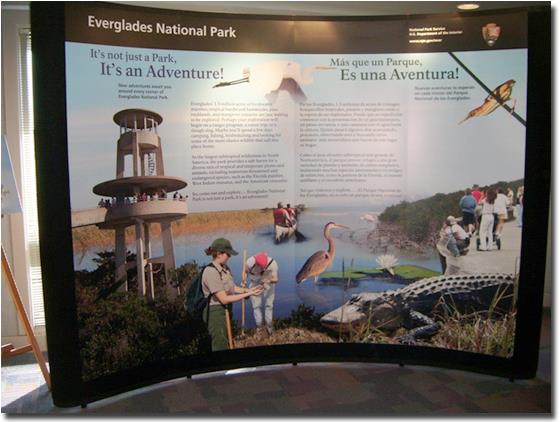 News Release Date:
September 19, 2013
Contact: General Park Information, 305-242-7700
Contact: Program Contact - Rudy Beotegui, 305-242-7700
Contact: Media Contact Linda Friar, 305-242-7714
Everglades National Park's Community Outreach Program is pleased to announce the launch of its travelling exhibits program.
The park has a suite of easy-to-assemble, traveling exhibits and displays that can be featured at any facility in the local community, including schools, libraries, shopping malls, banks, and hotels.  
The travelling exhibit program is a unique and creative way to promote local tourism within our community, while also providing the public with an opportunity to learn about the globally renowned natural and cultural resources within the Everglades. 
"This is a wonderful opportunity for our local community to support their national park and to encourage environmental awareness and stewardship of park resources," said Dan Kimball, Superintendent of Everglades and Dry Tortugas National Parks.
Five different exhibits that vary in size and shape are available and can be reserved for a specific time period.  Exhibit content ranges from general park information to Everglades restoration and coral reef protection. Some exhibits are available in English and Spanish. There is no cost associated with displaying these exhibits and all are welcome to make a reservation. Park personnel will deliver exhibits to your facility if you are unable to transport them.
To support your national park and display one of these exhibits in your facility, please visit our website athttps://www.nps.gov/ever/supportyourpark/park-exhibit-at-your-facility.htm