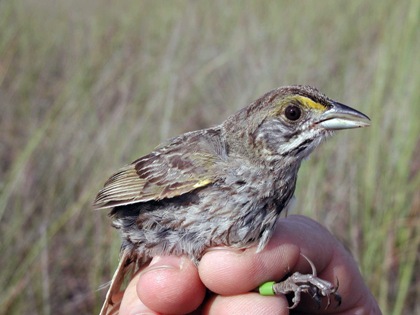 News Release Date:
October 20, 2007
Contact: Linda Friar, 305-242-7714
Contact: Dave Hallac, 305-224-4200
Contact: Sonny Bass, 305-242-4200
Superintendent Dan Kimball has announced the results of the Everglades National Park annual Cape Sable Seaside Sparrow survey. The 2007 overall population estimate for this endangered bird showed a small increase over 2006 numbers. The population increase resulted entirely from growth in the largest subpopulation. The other five subpopulations either remained constant or decreased in size (Table 1). 
Native to south Florida, Cape Sable Seaside Sparrows occur in six separate subpopulations on State and National Park Service lands. In 2007, the total population was estimated to contain 3,184 individuals, a small increase over the 2006 estimate of 3,088, but substantially lower than the 6,600 individuals estimated during the period from 1981-1992. While some variation in population size is normal for this species, the decline that occurred after 1992 is atypical.
Subpopulation A, located west of Shark River Slough in Everglades National Park decreased from an estimated 112 birds in 2006 to 64 birds this year. In the past, this subpopulation comprised more than 50% of the total population. Biologists estimated that there were more than 2,600 birds during the period from 1981-1992; however, from 1993-1995, the size of this subpopulation fell dramatically to 240 birds. After 1995, the population increased slightly, but no substantial recovery has been observed. This year's estimate of 64 birds represents the second lowest estimate on record.
Subpopulations B and E are currently the largest, with 2,512 and 560 birds, respectively. The size of subpopulation B, located on the east side of Shark River Slough and south of the main park road, increased from 2,080 individuals last year to 2,512 in 2007. However, subpopulation E had a 20% decrease in numbers from the previous year.
Subpopulation C exhibited a 70% decrease in size from last year's estimate of 160 birds, down now to 48 birds.  Prescribed burning activities that were initiated outside and to the east of Everglades National Park are believed to be the likely reason for this decline. In the spring of 2007, a prescribed fire jumped the L-31 North Canal on the park border into the park and burned a large portion of the habitat in this subpopulation.
Subpopulations D and F are of particular concern to park biologists. No birds were located in either subpopulation during this year's routine survey. Three birds were, however, detected in subpopulation D in the course of more intensive follow-up searches.
Despite the changes described in some of the subpopulations, the overall status of the sparrow did not change appreciably in 2007. The National Park Service, U.S. Fish and Wildlife Service, and other partners will continue to monitor, study, and provide recommendations to ensure the recovery of this endangered species in its natural habitat.
Contact: Sonny Bass or David Hallac (305-224-4200)
Table 1. Population estimates for the Cape Sable Seaside Sparrow for 1981 and 1992-2007. Estimates are obtained by multiplying the number of surveyed birds by 16. 
 

Subpopulation

 

Year

A

B

C

D

E

F

TOTAL

 

 

 

 

 

 

 

1981

2,688

2,352

432

400

672

112

6,656

1992

2,608

3,184

48

112

592

32

6,576

1993

432

2,464

0

96

320

0

3,312

1994

80

2,224

NS

NS

112

NS

2,416

1995

240

2,128

0

0

352

0

2,720

1996

384

1,888

48

80

208

16

2,624

1997

272

2,832

48

48

832

16

4,048

1998

192

1,808

80

48

912

16

3,056

1999

400

2,048

144

176

768

16

3,552

2000

448

1,824

112

64

1,040

0

3,488

2001

128

2,128

96

32

848

32

3,264

2002

96

1,904

112

0

576

16

2,704

2003

128

2,368

96

0

592

32

3,216

2004

16

2,784

128

0

640

16

3,584

2005

80

2,272

80

48

576

32

3,088

2006

112

2,080

160

0

704

32

3,088

2007

64

2,512

48

0

560

0

3,184
NS = Not Surveyed
-ENP-