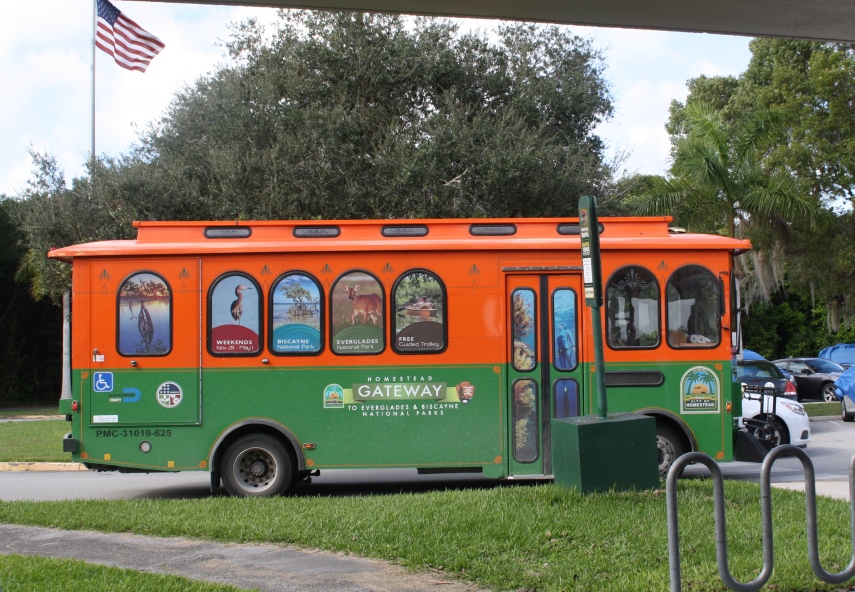 News Release Date:
December 22, 2015
Contact: General Park Information, 305-242-7700
Contact: Linda Friar, 303-242-7714
Contact: Mary Plumb, 305-242-7017
HOMESTEAD, Fla. --- Free transportation, parking and guided tours to Biscayne and Everglades National Parks are provided as part of the special Homestead National Parks Trolley service for the holiday season. The trolley runs each day from December 26 through 31, 2015, in addition to every weekend throughMay 1, 2016.
Trolley passengers may enjoy the beautiful weather, explore nature, encounter wildlife and spend time with their families. Homestead's award-winning National Parks Trolley service began its third season November 28, 2015. In addition to the new holiday schedule, the trolley departs every Saturday and Sunday throughMay 1, 2016, from historic downtown Homestead. The trolley takes visitors to Everglades National Park's Ernest F. Coe Visitor Center and riders enjoy free entrance into the park to visit the Anhinga Trail. It also travels to Biscayne National Park's Dante Fascell Visitor Center and boardwalk as well as Miami-Dade County's Homestead Bayfront Park where visitors may swim at the atoll beach.
The trolley is a free, winter-season, weekend service that provides the only public transportation to Biscayne and Everglades National Parks. Free transportation, parking and narrated tours are provided, as well as waived entrance fees. The trolley program is the result of efforts of the National Parks Conservation Association in collaboration with the National Park Service and the City of Homestead.
The trolley stop is located at Losner Park in historic downtown Homestead at 104 N. Krome Avenue. Free parking is available at the trolley stop which connects to Miami-Dade bus routes. Trolley seating may be limited and is available on a first-come, first-served basis.\
For more information about Everglades National Park, please visit the park website at https://www.nps.gov/ever/index.htm
For more information about Biscayne National Park, please visit the park website at www.nps.gov/bisc
For more information on the Homestead National Parks Trolley schedule and routes as well as ranger-guided tours at the National Parks and other activities, please visit: www.cityofhomestead.com/gatewayor call (305) 224-4457.
---NPS---