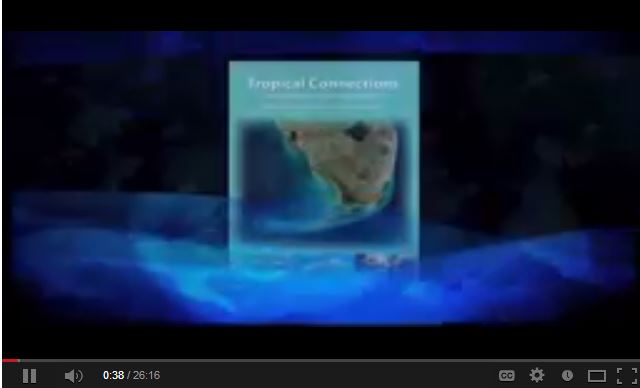 News Release Date:
January 30, 2014
Contact: General Park Information: , 305-242-7700
Contact: Program Contact: Bridget Litten, 305-852-0324 X0316
Contact: Media contacts only: Linda Friar,, 305-242-7714
HOMESTEAD, Florida: The latest episode of the educational television seriesWaterwaysdelves into the importance of fish spawning aggregations in the Florida Keys and the new bookTropical Connections: South Florida's Marine Environment.
In the first segment, "Tropical Connections: A Blueprint for Getting Involved," Dr. Bill Kruczynski and Pam Fletcher discuss their efforts to synthesize the science of the south Florida marine ecosystem in the bookTropical Connections: South Florida's Marine Environment. In the end, they brought together 163 scientists to summarize their research on south Florida's unique habitats. Why the nameTropical Connections? Because south Florida and the Florida Keys are where tropical and temperate zones meet; it's where the Gulf of Mexico and the Atlantic Ocean merge; it's where the seagrass beds, the mangrove islands and the coral reefs all contribute to the lifecycle of many marine species; and it's where water connects it all.
In the episode's second segment, "Fish Spawning Aggregations: Protecting the Most Valuable,"Waterwaysexamines how healthy fish spawning aggregations are critical to maintaining sustainable fish populations. Through ocean currents, these aggregations seed the reefs of the Florida Keys and beyond with new fish. But when fish come together, it makes them especially vulnerable to fishing pressure. Ongoing studies seek to identify common habitat features of spawning areas and the status of historical spawning aggregations for conservation efforts. Protecting groups of spawning fish is one key to maintaining a healthy balance in the overall coral reef ecosystem.
With more than 200 episodes produced since 1993, theWaterwaysseries is a joint project between Everglades National Park, Florida Keys National Marine Sanctuary, and the U.S. Environmental Protection Agency, informing viewers of the diverse wonders of the south Florida ecosystem, and the research and conservation programs that protect them.WaterwatsW
Waterwaysairs on public and government channels throughout the state of Florida—check local listings for scheduling. Episodes may also be viewed on theWaterwaysTVShowYouTube channel (http:/www.youtube.com/WaterwaysTVShow).