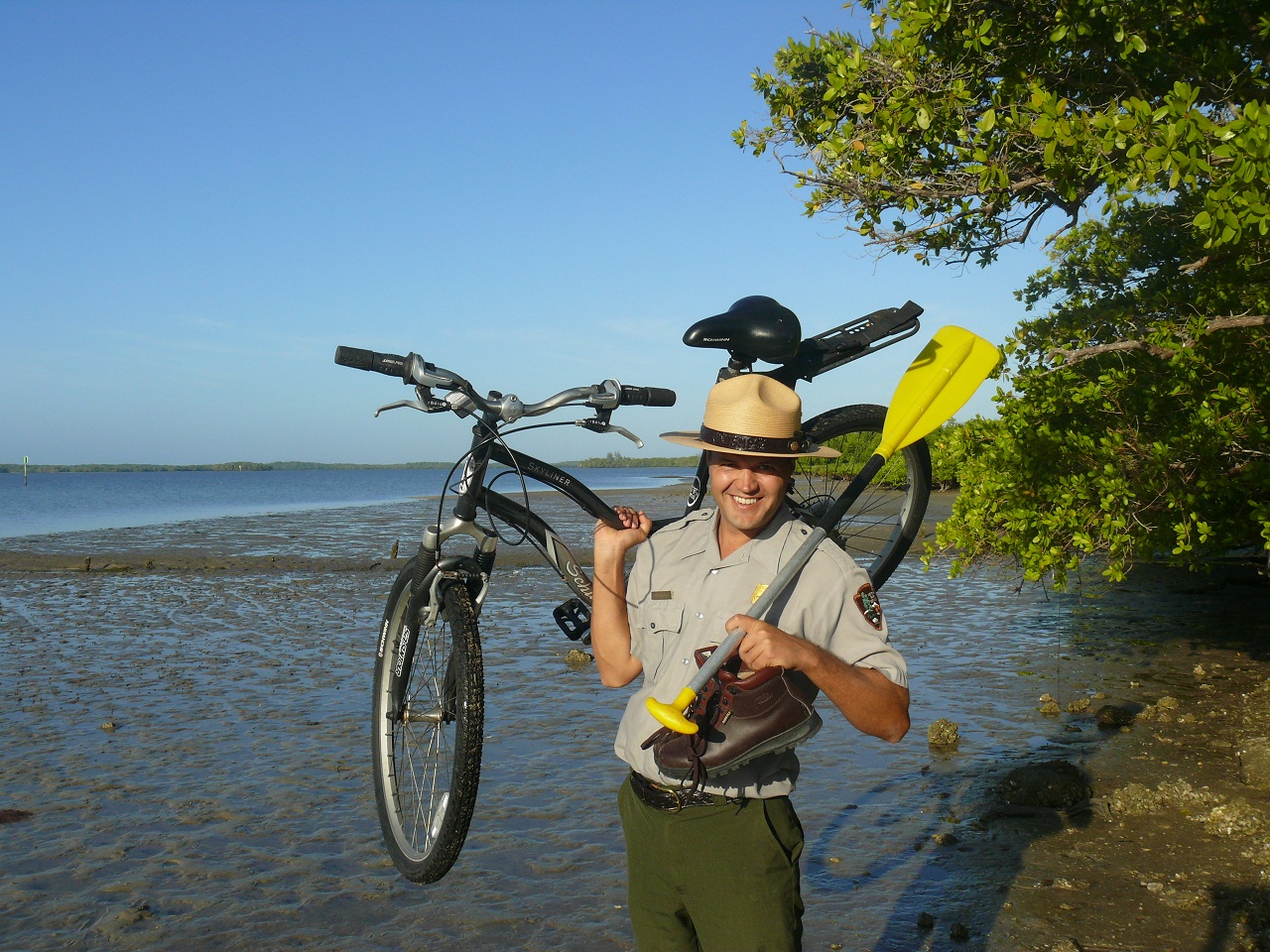 News Release Date:
December 17, 2015
Contact: General Park Information, 305-242-7700
Contact: Linda Friar, 305-242-7744
Contact: Mary Plumb, 305-242-7017
   Experience the wilder side of Everglades National Park and Big Cypress National Preserve during a special ranger-led, Tamiami Trail Triathlon of paddling, hiking and biking.  Normally the Tamiami Trail Triathlon is completed at National Park Service sites along the Tamiami Trail (U.S. Highway 41) on your own, in any sequence.  However, Rangers will lead four, all-in-one day events, to experience it all!  The special ranger-led, one-day events are being offered on four Sundays (December 20, January 24, February 21, and March 6). 
The Tamiami Trail Triathlon is not your typical triathlon, nor is it a race against the clock or other participants.  Normally, participants can do each leg at their leisure, in any order, and on any day they choose.  They don't even have to complete all the legs in one day.  But for four Sundays, rangers will be leading visitors on special one-day events to experience it all! 
It is a great way to experience the diverse habitats and recreational opportunities offered along the Tamiami Trail/U.S. Highway 41.  The Tamiami Trail Triathlon is designed to encourage people to try different ways to see the diverse habitats of the Everglades. 
Participants are asked to meet at the Everglades National Park's Gulf Coast Visitor Center in Everglades City at 8:30 a.m.  At 9:00 a.m., participants will paddle canoes 3.5 miles across Chokoloskee Bay to Sandfly Island and back.  This will be followed with a drive east on Tamiami Trail/U.S. Highway 41 to the second leg of the Triathlon, being held at the Oasis Visitor Center in Big Cypress National Preserve.  Participants will hike a 3.5 mile loop through cypress, prairie, and pine habitats.  Participants will then drive to the third and final leg, which takes place in Everglades National Park at Shark Valley. Bicyclists will pedal 15 miles on the paved tram route, surrounded by the River Of Grass. Participants will be responsible for their own transportation to each location and renting or bringing their own gear. Additional details can be acquired by calling the Gulf Coast Visitor Center at 239-695-3311.
Participants can also get credit toward the South Florida National Parks Centennial Triathlon Challenge.  In celebration of the National Park Service Centennial, this has been arranged for those up to completing at least 33 miles of hiking, 33 miles of paddling, and 33 miles of biking, in at least two of your National Parks during 2016. To learn the details, pick up your special South Florida National Parks Centennial Triathlon Challenge Passport book at any of the visitor centers in Everglades National Park, Big Cypress National Preserve, Biscayne National Park or Dry Tortugas National Park.