Date:
June 2, 2011
Contact:
Cerisa Swanberg
, 305-242-7040
Contact:
Linda Friar
, 305-242-7714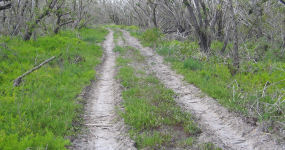 Get outdoors and try something different this National Trails Day - June 4, 2011. Join park staff and other volunteers for a day of clearing Rowdy Bend Trail in the Flamingo District of the park. Rowdy Bend Trail, (2.6 miles one way), is an overgrown road bed that passes through shady buttonwoods and open coastal prairie. This trail provides excellent opportunities for bird watching, hiking, and biking but is currently overgrown and needs trimming and maintenance to allow comfortable access to outdoor enthusiasts. Join in and open this trail for future hikers to enjoy this special part of the park!
National Trails Day encourages all Americans to get outside to experience, appreciate, and celebrate the natural places where we can find spectacular scenery, peace of mind, and recreation.
Details of Volunteer Project: Volunteers will remove branches, limbs, and shrubs from the trail with loppers and saws, allowing visitors to better access the Rowdy Bend Trail. Attending volunteers will enjoy an interpretive tour of the surrounding area, to learn about the Everglades natural resources and restoration efforts. Participating volunteers also receive a free entry pass, enabling each volunteer to visit the Everglades for free again and share this unique National Park with their family and friends.
Where to Report: Volunteers will meet in the Ernest F. Coe Visitor Center parking lot at 8:00am. Be prepared for hot and humid weather. Participants are required to wear long-sleeved shirts, sneakers, and long pants to protect against exposure to sun, stinging insects, poisonwood, and ivy. Please bring a lunch, water, a hat, and sunglasses.
All are invited. To volunteer, show up or RSVP with Cerisa Swanberg at (305) 242-7040. Learn more about National Trails Day at www.americanhiking.org/NTD and Everglades National Park at www.nps.gov/ever.
Address: Ernest F. Coe Visitor Center 40001 SR 9336, Homestead, FL 33034
Directions: Volunteers coming from the Miami area and northern destinations should take the Florida Turnpike (Route 821) south until it ends merging with U.S.1 at Florida City. Turn right at the first traffic light onto Palm Drive (State Road 9336/SW 344th St.) and follow the signs to the park. Follow Palm Drive until you reach a stop sign at the Robert is Here fruitstand. Turn left here and continue driving until you reach a second stop sign, and turn right. Continue driving until you see the signs for the Everglades and proceed to the entrance gate. Volunteers driving north from the Florida Keys should turn left on Palm Drive in Florida City and follow the signs to the park.
If you are late, meet at the Rowdy Bend Trail Head. Drive past the Ernest F. Coe Visitor Center and in ¼ mile is the park entrance station. Inform the entrance staff that you are volunteering and they will allow you to enter for free. Continue driving down the Main Park Road (about 1 hour to drive) to the Rowdy Bend's Trail head (35 miles from the park entrance on the left side of the Main Park Road. Turn left to Rowdy Bend and follow the road leading to the trail head to meet us at the trail. Our white truck will be parked outside of the trail head.