Date:
June 16, 2011
Contact:
Linda Friar
, 305-242-7714; Media Contact
Contact:
Cerisa Swanberg
, 305-242-7040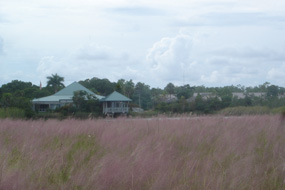 Join Everglades National Park in a "Welcome to the Summer" Volunteer Day and Tour
Homestead, FL: In South Florida, June marks the beginning of summer and afternoon showers. The summer rains aid plant growth, making the wet season the best time to plant. On Saturday, June 25, 2011, Everglades National Park is inviting volunteers to plant Muhly Grass in the landscape surrounding the Flamingo Campground kiosk. By planting the Muhly Grass, volunteers will improve the area around the kiosk by creating a sustainable native plant landscape that will not require future maintenance work.
Volunteer Project: Volunteers will use shovels and landscaping tools to help dig up the soil and plant Muhly Grass in plots surrounding the Flamingo Campground kiosk. Following the volunteer project, participants will enjoy an interpretive tour of the area by the Flamingo park rangers. Participating volunteers also receive a free entry pass, enabling each volunteer to visit the Everglades for free again and share this unique National Park with their family and friends.
Volunteers will meet at 8:00am in the Ernest F. Coe Visitor Center parking lot. Be prepared for hot and humid weather. Participants are required to wear long-sleeved shirts, sneakers, and long pants to protect against exposure to sun and stinging insects. Please bring a lunch, water, sunscreen, a hat, and sunglasses. Park staff provides all necessary tools, water, and soda. Bug spray is recommended and will be available to volunteers as well as a limited number of bug head nets.
All are invited. Show up or RSVP with Cerisa Swanberg at (305) 242-7040. Participants who are under 18 years of age are required to have a parental approval form signed by the parent.
Address: Ernest F. Coe Visitor Center 40001 SR 9336, Homestead, FL 33034
Directions: Volunteers coming from the Miami area and northern destinations should take the Florida Turnpike (Route 821) south until it ends merging with U.S.1 at Florida City. Continuing south on the U.S. 1, turn right at the first traffic light onto Palm Drive (SW 344th St.) and follow the signs to the park. Follow Palm Drive until you reach a stop sign at the Robert is Here fruit stand. Turn left here and continue driving until you reach a second stop sign, and turn right. Continue driving until you see the sign for Everglades National Park and proceed to the Ernest F. Coe Visitor Center parking lot. Volunteers driving north from the Florida Keys should turn left on Palm Drive in Florida City and follow the above directions.
If you are late, meet at the Flamingo Campground kiosk. Drive past the Ernest F. Coe Visitor Center and in ¼ mile is the park entrance station. Inform the entrance staff that you are volunteering and they will allow you to enter for free. Continue driving down the Main Park Road for 38 miles to the where the road ends at the Flamingo Campground (about an hour drive), where you'll see us working near the kiosk.
-NPS-