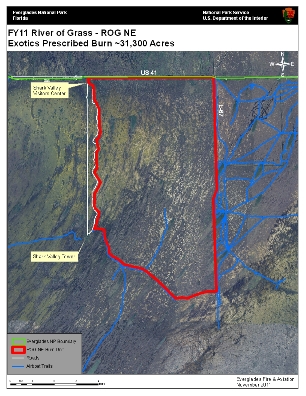 News Release Date:
November 28, 2011
Contact: General Park Information, 305-242-7700
Contact: Media Contact - Linda Friar, 305-242-7714
Contact: Fire Information Specialist - Rudy Evenson, 770-722-5417
Everglades National Park Fire and Aviation Division will conduct a prescribed burn Tuesday and Wednesday this week (November 29 and 30).General location of the prescribed burn is south of US 41/Tamiami Trail on park lands and east of the Shark Valley park entrance and Visitor Center and west of the L-67 canal. (Fire location - 25 42 36 N, 80 43 16 W) - MAP ATTACHED
Staff and equipment dedicated to this burn include: two wildland fire engines from the park and one from the Florida Panther National Wildlife Refuge,two helicopters ,one single engine airtanker (SEAT), and one airboat from Loxahatchee National Wildlife Refuge.
Fire operations are set to begin at about 10:00 a.m. on Tuesday November 29 and continue Wednesday November 30 (weather permitting).The prescribed burn area is approximately 31,000 acres in size.Smoke may be visible but not expected to impact Park visitor experience or local communities.
Prescribed burns are an important part of resource management at Everglades National Park, reducing risk from lightning caused fires during the dry season and benefiting wildlife that take advantage of new plant growth Information on the fire management program at the park can be found on the park website at https://www.nps.gov/ever/parkmgmt/firemanagement.htm.
Any questions on this burn can be routed to Everglades Fire Dispatch at (305) 242-7850.