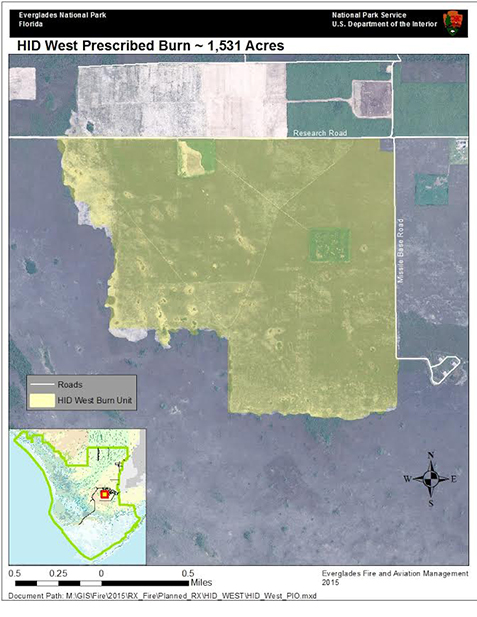 News Release Date:
January 22, 2015
Contact: General Fire Information, 305-242-7850
Contact: Media Contact: Rick Anderson, 305-242-7853
FL: Everglades Fire Management plans to conduct the Hole in the Donut(HID) West prescribed fire in Everglades National Park on Friday, January 23, 2015. The goal of the prescribed fire treatment is to reduce hazardous vegetation accumulations while recycling nutrients used to stimulate new growth in native plants.Prescribed fires consume dead and decaying vegetation and release nutrients that promote new growth, improved habitat and increased food sources that did not occur prior to the fire. When carefully planned and ignited during moist conditions, prescribed fires aid in removing accumulated dead plant material and provide effective fire breaks for dry season wildfires.Everglades Fire Management Officer, Rick Anderson said, "Our goal is to use prescribed fire to maintain species diversity, provide suitable food and habitat for plants and animals, and reduce the encroachment of undesired plants."Everglades National Park will remain open to visitors during the prescribed fire. For visitor safety, people who are not part of the prescribed fire operation should avoid areas of active fire. Smoke may be visible in the park. Please drive cautiously, reduce your speed, and turn on your headlights while driving.
What: Everglades National Park conducts HID West prescribed fire, approximately
When: January 23, 2015 (weather dependent)
Where: Sawgrass Prairies, Everglades National Park. HID West is located 6 miles west-southwest of the Royal Palm Visitor Use Area, directly west of the Nike Missile
For more information, contact Fire Information Officer Katie Corrigan, 305-242-7053.
 Follow Fire Updates on Facebook, https://www.facebook.com/EvergladesNationalPark Follow Fire Updates on Twitter https://twitter.com/EvergladesNPS