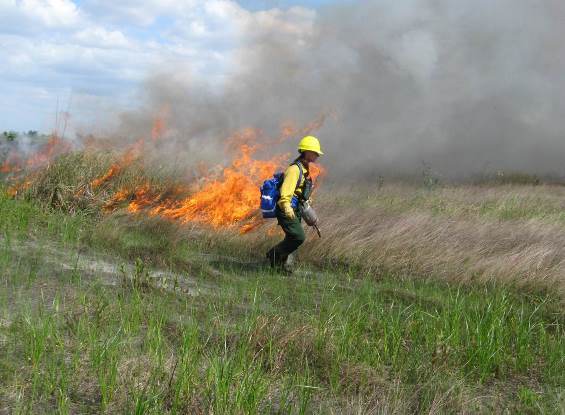 News Release Date:
December 2, 2014
Contact: General Park Fire Informatin, 305-242-7850
Contact: Fire Information Katie Corrigan, 305-242-7053
Contact: Fire Information Contact Rick Anderson, 305-242-7853
Everglades Fire Management will conduct two prescribed fires in the Shark Valley and Chekika regions of Everglades National Park during the first two weeks of December 2014.
The goal of the two prescribed fire treatments is to reduce hazardous vegetation accumulations adjacent to federally listed Cape Sable Seaside Sparrow habitat. Prescribed fires, carefully planned and ignited during relatively moist conditions, aid in protecting sparrow habitat from fast-moving dry season wildfires by removing accumulated dead plant material while conditions in the Everglades are relatively wet. Once burned, under prescribed conditions, these areas provide effective fire breaks for future wildfires.
The prescribed fires also aim to aid in invasive exotic species management including treatingMelaleuca quinquenerviawith fire following herbicide treatments. Using fire to treat exotics is one part of an integrated management approach using herbicide and prescribed fire treatments to reduceMelaleucaseedlings within Everglades National Park. 
Everglades Fire Management Officer, Rick Anderson said,"By burning under these moist conditions, firefighters can better protect the ecosystem and public interests from severe dry season wildfires."
All areas of Everglades National Park will remain open to visitors during the prescribed fires. For visitor safety, people who are not part of the prescribed fire operation should avoid areas of active fire. Smoke may be visible in the park. Please drive cautiously, reduce your speed, and turn on your headlights while driving.
What:Everglades National Park conducts two prescribed fires. Northwest River of Grass: 28,004 acres and East Everglades Five: 2,475 acres.
When:  December 3-12, 2014 (weather dependent)
Where: Sawgrass Prairies, Everglades National Park.
NW River of Grassis located south of Highway 41, west of Shark Valley Tram Road, and east of the Big Cypress National Preserve boundary. 
East Everglades Fiveis located 1 miles east of Chekika Day Use area, between SW 168thand SW 136thStreet and SW 218thand SW 237thAvenue.
For more information, contact Fire Information Officer Katie Corrigan, 305-242-7053.  
Follow Fire Updates on Facebook,https://www.facebook.com/EvergladesNationalPark
Follow Fire Updates on Twitter,https://twitter.com/EvergladesNPS
-NPS-
About the National Park Service: More than 20,000 National Park Service employees care for America's 401 national parks and work with communities across the nation to help preserve local history and create close-to-home recreational opportunities.
Learn more atwww.nps.gov.