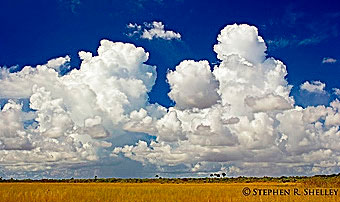 News Release Date:
July 2, 2013
Contact: General Park Information, 305-242-7700
Contact: Media contact: Mary Plumb, Public Affairs Officer, 305.242.7714
 HOMESTEAD, Florida:  Stephen Shelley will display his photography in Everglades National Park's Ernest F. Coe Visitor Center Gallery during the month of July.  His favorite subject is the Florida Everglades and the Florida Keys where he spends hours wading through cypress domes or mangroves swamps looking for new perspectives and subject matter.  Mr. Shelley's goal is to capture the beauty of nature on canvas and encourage conservation of our natural resources so that they may continue to be enjoyed by future generations.
Mr. Shelley has been an avid outdoorsman his whole life, fishing, camping, hiking and generally getting out in the wilderness as often as possible. He enjoys the solitude nature provides away from the hustle, bustle and stress of life.  Mr. Shelley has a law practice in Homestead, Florida and also serves as a City Councilman for the City of Homestead.  You can visit Mr. Shelley's website atwww.stephenshelleyphotography.com or contact him by email at Stephen@stephenshelleyphotography.com
The Ernest F. Coe Visitor Center is located at 40001 State Road 9336, approximately 10 miles southwest of Florida City. Visitor center hours are 9:00 a.m. to 5:00 p.m. daily and admission is free. For information and directions to the park call (305) 242-7700. More information on Everglades National Park can be found on the park website