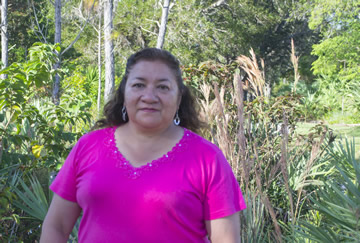 News Release Date:
December 4, 2012
Contact: Linda Friar, 305-242-7700
Homestead, Florida - Ms. Ada Castillo
 Ordinola, a senior manager in the Peruvian
 park service, is completing a World Heritage
 Fellowship at Everglades National Park,
 studying sustainable park management.  During
 her six week course of study, Ms. Castillo
 Ordinola is learning about methods used in the
 United States by the National Park Service to
 provide for visitor access and enjoyment while
 ensuring the preservation of park resources
 for future generations.  Everglades National
 Park was among the first sites in the United
 States to be added to the World Heritage List
 in 1979.  The World Heritage Fellowship will
 enable Ms. Ordinola to transfer lessons
 learned to similar sites in Peru, including
 the famous Machu Picchu and other World
 Heritage sites.


 Ms. Castillo Ordinola is the most recent
 participant in the National Park Service's
 (NPS) U.S. World Heritage Fellows program. The
 U.S. World Heritage Fellowships promote
 conservation of World Heritage Sites around
 the globe by providing an opportunity for
 World Heritage site managers from outside the
 U.S. to temporarily reside in this country and
 work alongside the managers and staff of U.S.
 World Heritage Sites. Previous World Heritage
 Fellows have come from Brazil, Kenya, the
 Seychelles, South Africa, the Philippines,
 Zambia, Jordan, Libya and Peru.


 Ms. Castillo Ordinola's World Heritage
 Fellowship is being sponsored by the NPS with
 significant support from Tourism Cares' Global
 Outreach program.  Tourism Cares, a U.S. based
 travel and tourism charity dedicated to
 preserving the travel experience for future
 generations, is supporting the World Heritage
 Fellowship Program by covering the travel
 costs for Ms. Castillo's visit.


"The challenge to preserve Machu Picchu, the
 remarkable Incan "lost city" rediscovered 120
 years ago, is balancing visitation with
 preservation," said Bruce Beckham, Executive
 Director of Tourism Cares..  "To that end,
 Tourism Cares is subsidizing Ms. Castillo's
 study visit at Everglades National Park
 learning about U.S methods in sustainability,
 crowd management, and other ways of preserving
 a natural site of significance."


It is particularly timely that this year's
 World Heritage Fellow is from Peru, where
 Tourism Cares has made a three-year commitment
 to GO Peru, a collaboration between U.S.
 travel and tourism companies and similar
 companies within Peru, which have formed a
 charitable organization to preserve world
 heritage sites in the country.


 "Tourism Cares' Global Outreach program
 mirrors what we do in the U.S." Beckham said.


 GO Peru included an educational forum held in
 Cuzco in May and a hands-on volunteer
 restoration program at the San Pedro
 marketplace in Cuzco.  Beckham said the U.S.
 charity and the new Peru charity, Turismo
 Cuida - "Tourism Cares, Peru"  - have pledged
 to raise matching funds to provide grants to
 preserve and restore cultural and natural
 sites in Peru in 2013 and 2014.


 According to Stephen Morris, Chief of the NPS
 International Affairs Office, "Ideally, the
 entire international community plays a role in
 the protection of every World Heritage Site.
 This is a way for the National Park Service to
 help the United States fulfill that
 responsibility. Through this program, site
 managers of World Heritage Sites in other
 parts of the world can learn from the NPS's
 decades of experience managing natural and
 cultural sites, and the NPS likewise gains new
 ideas and perspectives that can be applied to
 the management of our own parks."


 Fellowship applicants are asked to provide
 information on management issues and topics of
 importance to their sites as part of the
 application process. Based on the topics
 submitted by Ms. Castillo Ordinola, Everglades
 National Park was selected as the host park
 for her fellowship.


 For more information on the U.S. World
 Heritage Fellows program, go to
www.nps.gov/oia/new/New_Page/ WH_Fellowship.htm
 or contact Stephen Morris, NPS Chief of
 International Affairs, at
e-mail us, or Jonathan Putnam at
e-mail us. To learn more about
 World Heritage Sites, go to
http://whc.unesco.org/en/ about/. For more on
 Machu Picchu, see
http://whc.unesco.org/en/list/ 274/.


 www.nps.gov


 About Tourism Cares


 Tourism Cares, Inc. is a 501c(3) non-profit
 public charity that benefits society by
 preserving the travel experience for future
 generations by awarding grants to natural,
 cultural and historic sites worldwide; by
 focusing on workforce development through our
 student programs which provide support from
 classroom to career; and by organizing
 volunteer efforts to restore tourism-related
 sites in need of care and rejuvenation.  For
 additional information, or to contribute to
 Tourism Cares, visitwww.tourismcares.org.


 Many thanks to our Global Leaders Tauck and
 Trip Mate which are providing leadership
 funding for three years and to the following
 sponsors providing two years of support at the
 Global Partner level: Amadeus North America,
 Avanti Destinations, Collette Vacations,
 Fairmont Specialty, General Tours, Odysseys
 Unlimited, On Call International, and Ward
 Insurance Network. And, thanks also to our
 in-kind Corporate Partners Avis and Hertz,
 which are helping to provide local
 transportation for Ada while she is in South
 Florida.