Pedro Ramos Selected as New Superintendent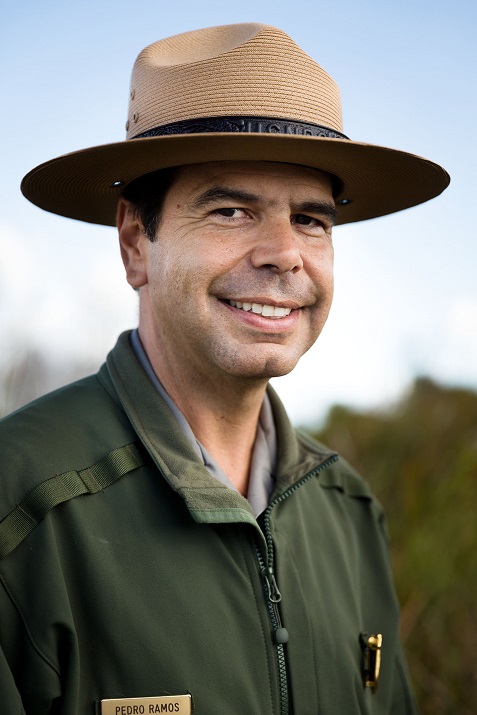 News Release Date:
January 7, 2015
Contact: General Park Informaiton, 305-242-7700
Contact: Media Contact Linda Friar, 305-242-7739
Contact: Media Contact Mary Plumb, 305-242-7017
ATLANTA – Southeast Regional Director Stan Austin announced that Pedro Ramos has been selected as Superintendent of Everglades and Dry Tortugas National Parks in Florida. Ramos has been serving as superintendent of Big Cypress National Preserve since January 2009. Ramos will begin his new assignment in mid-January.
"We are delighted that Pedro will be the next superintendent for the Everglades and Dry Tortugas," Austin said. "He has done a great job leading Big Cypress for more than five years. He is well-known and well-respected throughout the south Florida area. We know he will have great success working with the great partners, tribes and local community leaders to ensure the preservation and enjoyment of these magnificent parks for future generations."
"Pedro is an outstanding addition to the senior executive leadership at the National Park Service," said National Park Service Director Jonathan B. Jarvis. "His experience connecting with local communities in South Florida and igniting their passion for national parks will add depth to the great work that is happening at Everglades and Dry Tortugas National Parks."
Ramos said "I am tremendously honored to have been entrusted with the awesome responsibility of leading the stewardship efforts for Everglades and Dry Tortugas National Parks. These two special places are truly American Treasures. I cannot wait to begin working with their incredible staff and partners to create the next generation of stewards and supporters. Together, we will care for, restore, and share these amazing resources with all people as we prepare to celebrate the Centennial of the National Park Service in 2016."
Born in San Juan, Puerto Rico, Ramos left the island to attend the University of Massachusetts in Amherst, where he graduated with a bachelor of science degree in 1990. Prior to his graduation, Ramos began his Federal career as a student trainee with the U.S. Department of Agriculture (USDA), Rural Development, formerly Farmers Home Administration, in the State of Vermont. He served as a Community Development Manager in the U.S. Virgin Islands until 1997 when he returned to Vermont to serve as the Director for Administration for the states of Vermont, New Hampshire, and the territory of the U.S. Virgin Islands.
In 2001 Ramos transferred to the National Park Service (NPS) as administrative officer at Big Cypress National Preserve. In 2005 he was named deputy superintendent there, and was appointed superintendent in 2009. Throughout the years, Ramos devoted much of his time to establishing strong community relations with the many park partners in south Florida, and working to balance the multi-use Congressional mandate at the preserve.
Ramos' NPS career has also included acting superintendent assignments at Jimmy Carter and Andersonville National Historic Sites in Georgia, San Juan National Historic Site in Puerto Rico, and Great Smoky Mountains National Park in North Carolina and Tennessee.
Everglades National Park is the third largest national park in the lower 48 states. At 1.5 million acres (approximately 2400 square miles), it covers much of the southern peninsula of the State of Florida. Spanning the area from Naples to Miami and south to Florida Bay, it includes many different habitats, is home to 14 federally-listed threatened and endangered species. The park is located between the highly populated (nearly 8 million people) urban areas of Miami, Naples, and the Florida Keys. It has experienced significant ecological damage from water management decisions made over the last 130 years in south Florida. The
National Park Service is a partner in the regional ecosystem restoration effort undertaken to improve the health of the Greater Everglades. Everglades National Park was designated a World Heritage Site in 1979, an International Biosphere Reserve in 1976, a Wetland of International Importance in 1987, and a Specially Protected Area under the Cartagena Treaty in 2012.
Dry Tortugas National Park is one of the most remote parks in the lower 48 states. Located 68 nautical miles from Key West, the park is accessible only by boat or seaplane. A cluster of seven islands (64,700 acres), the Dry Tortugas are composed of sand, limestone, and coral reef fragments and surrounded by shoals and waters to depths of 25 meters. The primary island, Garden Key, is home to Fort Jefferson, the largest masonry coastal fort in the country. Loggerhead Key also contains a historic district consisting of a lighthouse station and 19th Century Lighthouse that is still used as an active aid to navigation.
Last updated: July 18, 2019