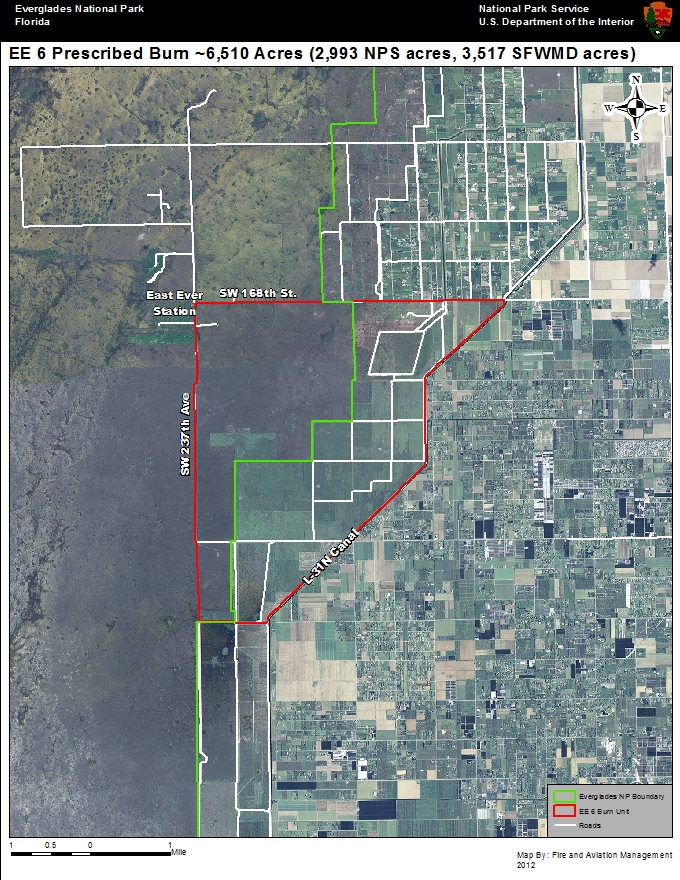 News Release Date:
December 13, 2012
Contact: Mary Plumb, 305-242-7714
Homestead, Florida: Everglades National Park will be conducting the Tower Tract (East Everglades 6) Prescribed Burn on Friday December 14, 2012, in the East Everglades District of the park. The general location of the Tower Tract unit is south of 168th Street, north of 232nd Street, and west of 218th Avenue, and approximately 3 1/2 miles north of Homestead General Airport, along the eastern boundary of Everglades National Park.  This unit is located south ofthe Chekika day use area and adjacent to the East Everglades Ranger Station. The planned burn area is about 6,510 acres in size (2,993 National Park Service, 3,517 South Florida Water Management District).
Weather permitting, fire operations are set to begin at about 11:00 a.m. and continue throughout the day.  Depending on weather patterns, smoke may be visible in the eastern portion of the park; however there should be no impact on roadways.  In the evening residents of Homestead or south Kendall, or the 8 1/2 square mile area, are likely to see smoke and possibly some light ash from the fire. This is not unusual and should not cause concern.
Staff and equipment that have been dedicated to this prescribed burn include: 1 helicopter, 4 wild land fire engines, 3 Kubotas (Utility Vehicle, or UTV), 2 law enforcement officers, and approximately 24 firefighters.The Florida Forest Service will be assisting.
Controlled burns are an important part of resource management at Everglades National Park. Information on the fire management program at the park can be found on the park website athttps://www.nps.gov/ever/ parkmgmt/firemanagement.htm. Any questions on this burn can be routed to Everglades National Park at 305-242-7714.