Nile Crocodile Removed from Everglades National Park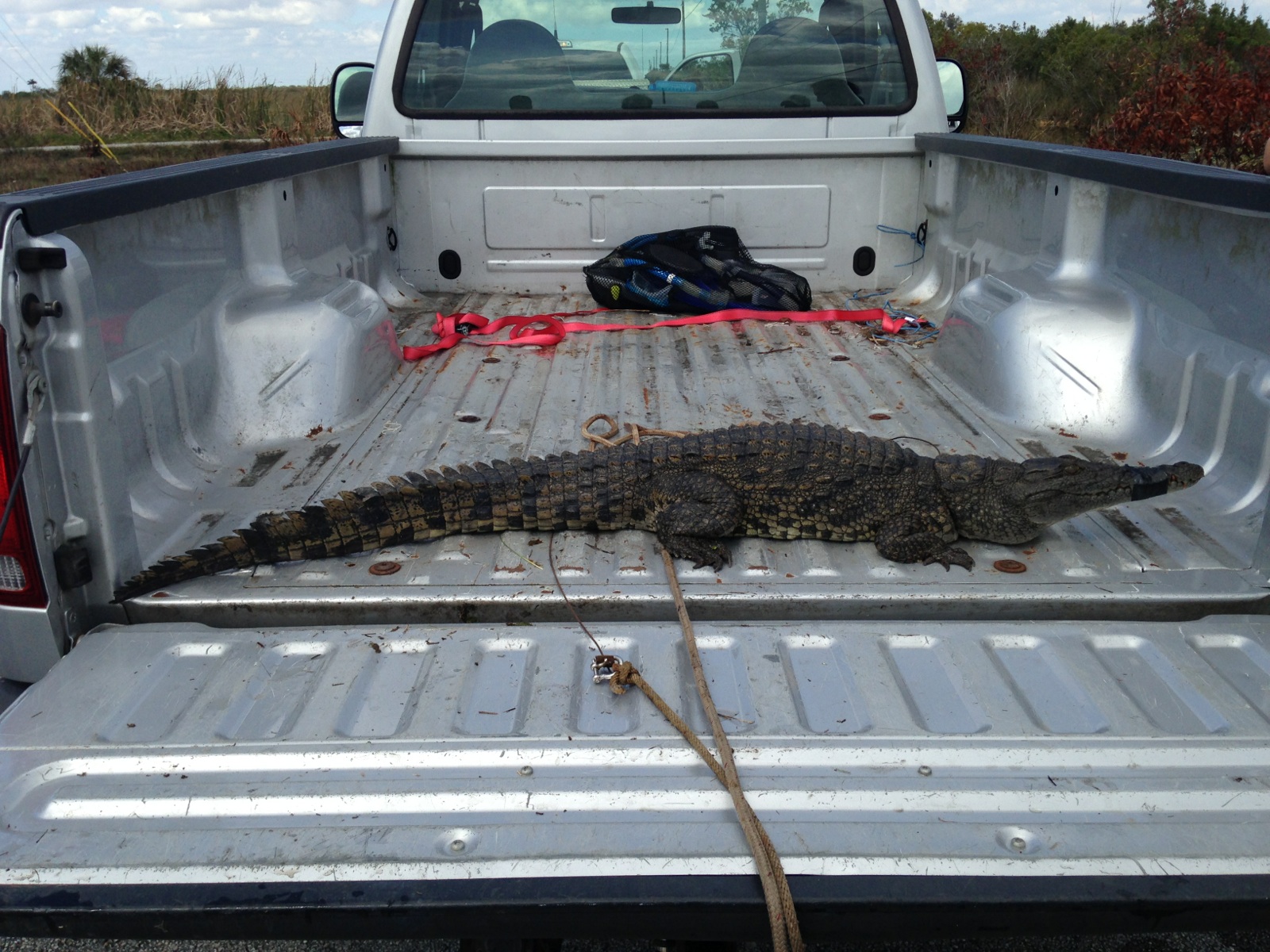 News Release Date:
March 12, 2014
Contact: General Park Information, 305-242-7700
Contact: Media contacts only: Linda Friar, 305-242-7714
Contact: Mary Plumb, 305-242-7017
HOMESTEAD, Florida – Everglades National Park, and partners including the University of Florida (UF), Florida Fish and Wildlife Conservation Commission (FWC), and the Swamp Apes (a volunteer organization), worked together over the weekend to capture a Nile crocodile that was reported in Everglades National Park, in the Chekika area of the park, which is currently closed to the public.
Members of the Swamp Apes, authorized agents for the exotic removal program in Everglades National Park, notified the park that they'd spotted this animal while conducting regular Burmese Python surveys.
On Sunday, March 9th, an interagency team of cooperators responded quickly to begin an operation to remove the exotic animal from the park. After several hours of corralling the crocodile into a small section of canal, the team was able to capture the animal.
"Exotic reptiles continue to challenge the health of south Florida ecosystems we are charged with protecting," said Superintendent Dan Kimball. "Unfortunately federal and state agencies in Florida spend over 80 million dollars a year to remove invasive plants and animals to protect our natural resources. Our ongoing partnership with federal and state agencies and volunteers to remove exotic plants and animals from protected areas is essential!"
Circumstances surrounding the escape or release of this animal are currently under an ongoing criminal investigation by FWC. 
This crocodile is a juvenile and not yet of breeding age with a total length of approximately 5.5 feet and weight of 37.4 pounds.
WHAT:        Removal of Nile Crocodile from Everglades National Park
(Photo of Crocodile Attached is in the public domain)
WHEN:    Sunday March 9, 2013
WHERE: Everglades National Park - Chekika
Last updated: April 14, 2015