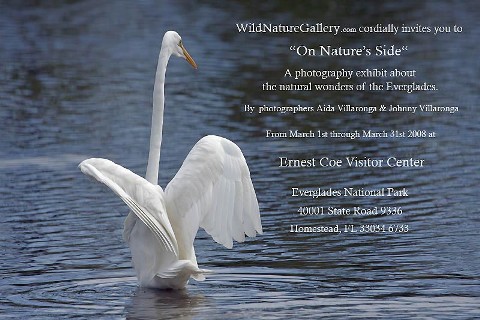 News Release Date:
March 4, 2008
Contact: Linda Friar, 305-242-7714
A new photo exhibit has opened at the Ernest F. Coe Visitor Center, Everglades National Park, Homestead, Florida. The exhibit is entitled "On Nature's Side" A Photography Exhibit of the Natural Wonders of the Everglades.
"We as an educated society, should not contribute to nature's destruction. Together we could make a difference by conserving it; after all, it is one less sin to ask forgiveness for," sums up Johnny and Aida's philosophy toward the Everglades. Johnny and Aida's photography interests have evolved toward South Florida's bounty of natural resources. Johnny has been a sports and advertising photographer but now he and wife Aida concentrate on illustrating the beauty of nature. Their goal is to impart a consciousness in others of the importance of protecting and conserving this treasure we hold in trust for future generations. Johnny is a contributor to "Florida Wildlife" magazine and, among many other honors, recently took first place in the magazine's 2007 Photography Contest. Aida recently took a first place, a second place and an honorable mention in the Florida Wildlife Federation 2007 Calendar Contest.
The Johnny and Aida Villaronga exhibit will be in the Visitor Center Gallery from March 1st through March 31st, 2008.
The visitor center is open daily from 9AM to 5PM and directions can be found on our website at nps.gov/ever.
-ENP-