National Day of Service Event at Everglades National Park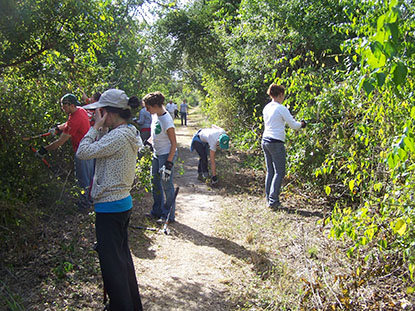 News Release Date:
January 7, 2013
Contact: John Souva, 305-242-7040
Contact: Mary Plumb, 303-242-7714
HOMESTEAD, Florida: In recognition of the National Day of Service, Everglades National Park will host a public volunteer event on Saturday, January 19, 2013, in the housing and maintenance areas in the Royal Palm District of the park. The Day of Service is the nationwide celebration of the president's inauguration as well as a commemoration of Martin Luther King's vision of community service.
South Florida experiences a year-round growing season, which is beneficial for gardening and farming, but also means that trees and other vegetation around Everglades National Park's facilities require continuous trimming. Volunteer groups will remove fallen branches and use loppers, handsaws, and hand clippers to trim overgrown vegetation around the various administrative offices, maintenance buildings, and housing units, ensuring that they are safe and accessible for park staff. Vegetation removal, trimming and redefining paved areas are vital for the continued use of park facilities and will be the majority of Saturday's work. 
Participating volunteers will receive a free entry pass, enabling each volunteer to visit Everglades National Park again and to share their visit with their family and friends.
All are invited. To volunteer, show up or RSVP by calling John Souva at 305-242-7040
Volunteers will meet at 9:00 a.m. in the Ernest F. Coe Visitor Center parking lot. Be prepared for hot and humid weather. Participants are required to wear long-sleeved shirts, sneakers, and long pants to protect against exposure to sun, biting insects, poisonwood, and ivy. Please bring a lunch, refillable water bottle, hat, and sunglasses.
Directions: The Ernest F. Coe Visitor Center is located at 40001 SR 9336, Homestead, FL 33034.
From the Miami area and northern destinations, take the Florida Turnpike (Route 821) south until it ends merging with U.S.1 at Florida City. Turn right at the first traffic light onto Palm Drive (State Road 9336/SW 344thSt.) and follow the signs to the park. The Ernest F. Coe Visitor Center will be on the right.
Volunteers driving north from the Florida Keys should turn left on Palm Drive in Florida City and follow the signs to the park.
About the National Park Service. More than 20,000 National Park Service employees care for America's 395 national parks and work with communities across the nation to help preserve local history and create close-to-home recreational opportunities. Learn more atwww.nps.gov.
Last updated: April 14, 2015