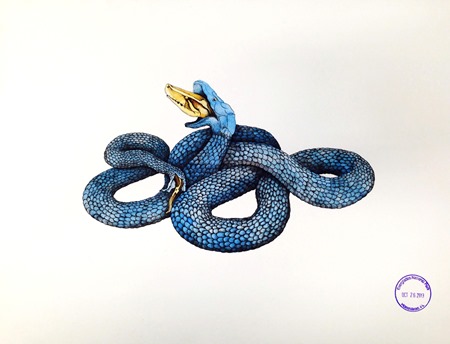 News Release Date:
March 2, 2016
Contact: General Park Information, 305-242-7700
Contact: Media Contact Linda Friar, 305-242-7714
Contact: AIRIE Contact Deborah Mitchell, 305-978-4983
Everglades National
Park invites the public to enjoy a new art exhibit, in the gallery of the
Ernest F Coe Visitor Center, entitled "The Suitcase Show."This exhibit is a collection of works on
paper by 28 AIRIE (Artist in Residence in the Everglades) fellows that span the
history of the AIRIE program from 2003-2009. The exhibit, curated by Donna Marxer and Irene Christensen, includes works
by Rebecca Reeve and Bryan McGovern Wilson. The exhibit will be on display from March 3 –31.
AIRIE will also
sponsor a campsite talk entitled AIRIE: Then and Now at the Long Pine Key
Amphitheater at 7:30 pm on Friday March 4th and a reception in the Coe
Visitor Center gallery on Saturday, March 5th from 1-4 pm.
Donna Marxer, the
founder of the AIRIE program in 2001, is on the Board of Directors and continues
to support this organization that partners with Everglades National Park to
support and enhance the arts and cultural heritage of this subtropical
wilderness through artist residency and public outreach programs. Today, there
are over 90 AIRIE Fellows who have produced an outstanding body of work.
Schedule of March AIRIE events in the park
March 3 –31–The Suitcase Show –works
on paper exhibit in the Ernest F. Coe visitor Center Gallery, Homestead Florida
March 4th: Donna
Marxer will host a campsite talk entitled AIRIE: Then and Now at Long Pine Key
Amphitheater on Friday, March 4th at 7:30 pm with Marxer, current artist in
residence Elisabeth Condon and AIRIE executive director Deborah Mitchell.
March 5th - A reception will be held in the Coe
Visitor Center gallery on Saturday, March 5th from 1-4 pm.
All events are free
and open to the public. Park entrance fees apply for the campfire talk.
Directions:
The Ernest F. Coe
Visitor Center Gallery (located at 40001 State Road 9336, approximately 10
miles southwest of Homestead.Center
hours are 8 a.m. to 5 p.m. daily. Admission to the visitor center is free.)

The Long Pine Key Campground is located seven miles from the main entrance,
just off the main road.
For information and
directions to the park please visit the park website at https://www.nps.gov/ever or call (305) 242-7700 (during regular
business hours, Monday through Friday, 8:00 a.m. –4:30 p.m.).
About AIRIE
South Florida is
home to the only subtropical wilderness area in the country, and
Artists in
Residence in Everglades (AIRIE) is the only program bringing artists to the
Everglades. AIRIE's purpose is to inform, connect, and support artists, writers
and musicians who wish to be ambassadors for the Everglades by providing
month-long residencies on-site. Since 2002 over 70 artists have produced
astounding work at the residency. For more information visit www.airie.org or
contact AIRIE staff at airieinfo@gmail.com