Date:
November 14, 2013
Contact:
General Park Information
, 305-242-7700
Contact:
Media Inquiries: Linda Friar
, 305-242-7714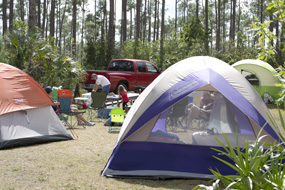 HOMESTEAD, FLORIDA – Due to improvements to park roads and parking lots, the reopening of the Long Pine Key Campground will be delayed due to paving work. It was previously announced that it would reopen on November 15, however that is now being delayed until mid-December. In the interim, those desiring to camp will be able to utilize the Flamingo Campground instead.
"We wanted to give a heads up to the park's visitors that paving work is to begin next week in Flamingo campground A Loop and will move to the Long Pine Key Campground on Nov 25. The Long Pine Key Campground will remain closed until the paving is completed, or no later than Dec 20," said Everglades National Park Superintendent Dan Kimball.
The bike trail in the Long Pine Key Campground area will remain open, but nearby parking may be affected. The entrance station will post daily information on any changes to access due to the paving project until it is completed.
Long Pine Key Campground is located seven miles (11 km) from the main entrance, just off the main road. When it reopens, visitors will enjoy the campground's 108 drive up sites for tents and recreational vehicles (RV's), and one group site. A picnic area is nearby, with fire grates and rest rooms. There is also a pond for fishing, an amphitheater for winter programs, and several hiking trails in the area. The picnic area and trail access will remain open through the summer.  

-EVER-
 Everglades National Park  - America's Everglades - was designated as a World Heritage Site in 1979, an International Biosphere Reserve in 1976, a Wetland of International Importance in 1987, & a Specially Protected Area under the Cartagena Treaty in 2012. 
-NPS-
About the National Park Service. More than 20,000 National Park Service employees care for America's 401 national parks and work with communities across the nation to help preserve local history and create close-to-home recreational opportunities.