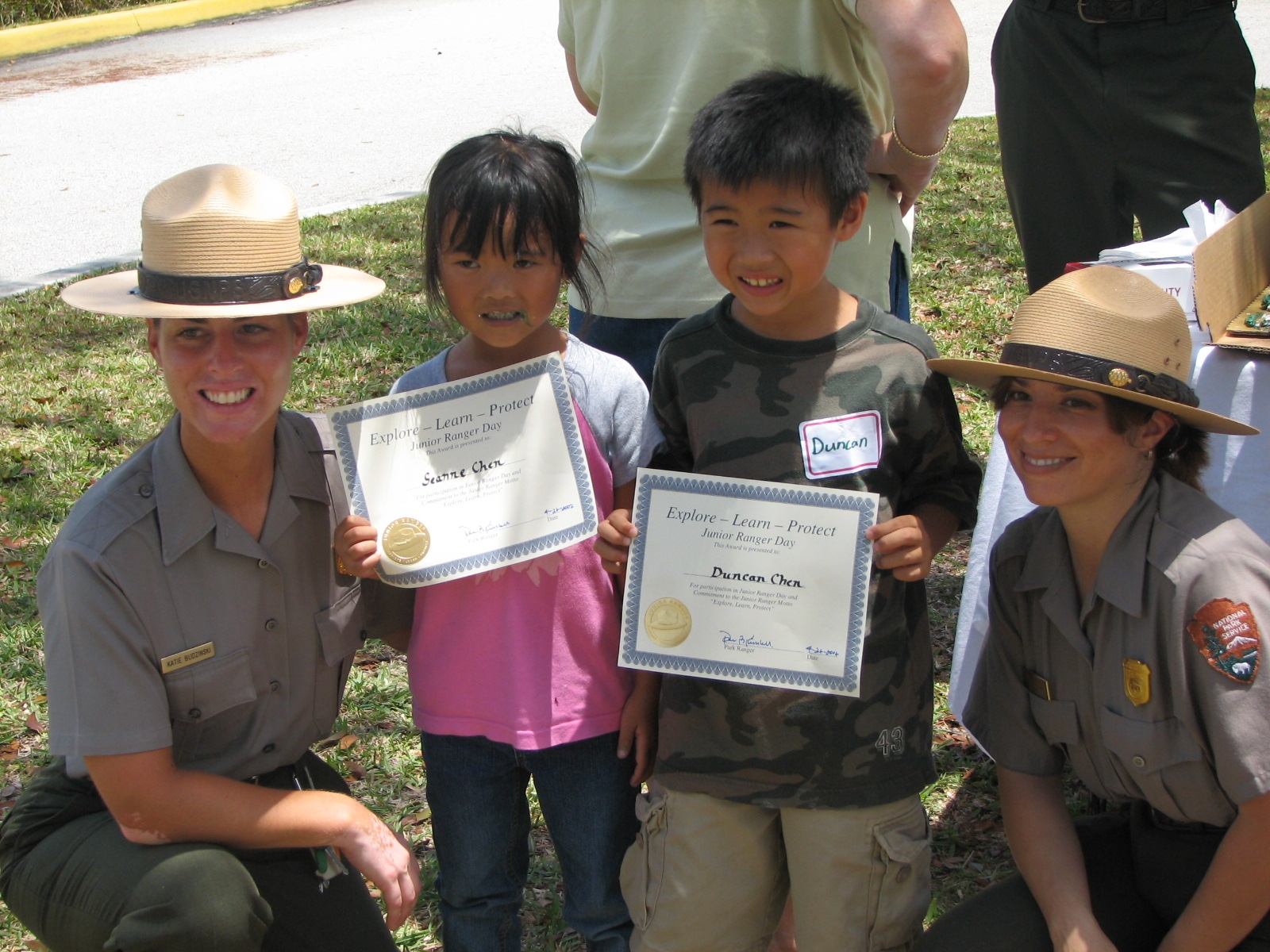 News Release Date:
March 22, 2013
Contact: Environmental Education Program, 305-242-7753
Contact: General Park Information, 305-242-7700
Contact: Media Contacts: Mary Plumb, Public Affairs Officer (Acting), 305-242-7714
HOMESTEAD, Florida - Everglades National Park is pleased to invite kids who want to be Junior Rangers to visit the park for free onApril 6to learn how to, "Explore, Learn, and Protect" your national parks! Admission to the park will be free for families participating in the Junior Ranger Day event.  Junior Ranger Day is an annual event and is part of the national Junior Ranger Program, designed specifically for kids and families who visit National Park Service sites. 
Three of south Florida's National Park Service units-Everglades National Park, Biscayne National Park, and Big Cypress National Preserve-have a joint Junior Ranger Program. Junior Ranger Activity Guides are available in English, Spanish, and Haitian-Creole and may be obtained at any of the park visitor centers. The program is designed for kids 8 to 12 years old, but is available to kids of all ages! 
On Junior Ranger Day, kids can participate in special activities at the park and earn a Junior Ranger badge.
Junior Ranger Day activities include: 
Shark Valley Visitor Center- located at 36000 SW 8thStreet, Miami, Florida, 33194 (on US Highway 41, 25 miles west of the Florida Turnpike):
Aspiring Junior Rangers and their families will be treated to a free guided tram ride through the Everglades.Seating is limited so reservations must be made in advance by calling 305-242-7753.
Registration begins at 9:30 a.m., followed by a 2.5 hour guided tram tour. Participants will then gather for a picnic lunch (please bring your own), with time for Junior Rangers to complete their activity guides.
At 2:00 p.m. we will have a ceremony to award the new Junior Rangers with their badges. Join us for all or part of the day! (Please note, participants will be asked to sign a photo/video release.)
Short ranger talks, guided walks, a touch table, and exhibits for kids will be available for all from 9:30 a.m. - 2:30 p.m. 
Ernest F. Coe Visitor Center- located at 40001 State Road 9336, Homestead, Florida 33034, approximately 10 miles southwest of Florida City.  
·        An open-house style event begins with registration at the Ernest F. Coe Visitor Center.
·        Rangers will be stationed along the Anhinga Trail at Royal Palm with activities for children.
·        Event takes place from 9:30 a.m. - 2:30 p.m. and families may proceed at their own pace.
All participants will receive Junior Ranger badges and patches upon completion of the program. Come out to, "Explore, Learn, and Protect" your park!
For more information and to RSVP, call the Loop Road Education Center at 305-242-7753.