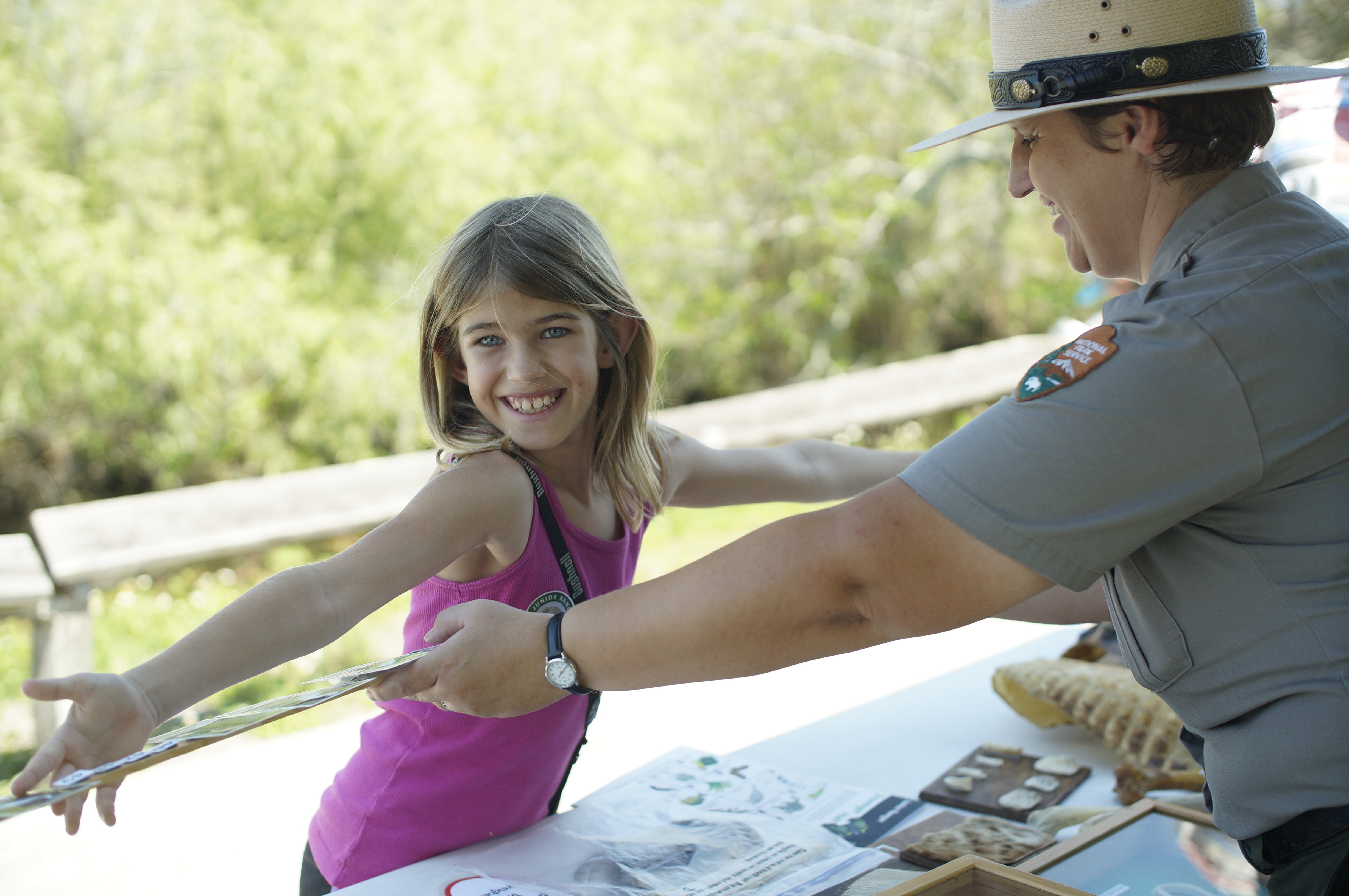 News Release Date:
March 29, 2016
Contact: Linda Friar, 305-242-7714
Contact: Mary Plumb, 305-242-7017
Contact: Environmental Education, 305-242-7753
HOMESTEAD, Fla.: Kids of all ages are invited to come learn how to, "explore, learn, and protect" your national park onSaturday, April 2, and become an official Junior Ranger! Junior Ranger Day is an annual event that highlights youth in national parks, and special activities are planned at the Shark Valley and Royal Palm areas. 
According to Everglades National Park Superintendent Pedro Ramos, "Junior Ranger Day is a perfect way to celebrate the National Park Service Centennial as all generations come together to be actively engaged in their national parks. With such a variety of ranger-led activities there will be something for everyone in the family to enjoy. It will be a great day to deputize anyone wanting to be a Junior Ranger, as future generations of park advocates gain hands-on experience they will never forget."
All participants will receive Junior Ranger badges and patches upon completion of the program. To celebrate the 100th anniversary of the National Park Service, all participants will also receive a special Centennial badge. Junior Ranger Activity Guides are available in English, Spanish, and Haitian-Creole and may be obtained at any of the park visitor centers. The program is designed for kids aged 8 to 12 years old, but is available to kids of all ages! Come out to explore, learn, and protect your national park!
Junior Ranger Day activities include:
Shark Valley Visitor Center(located on U.S. Highway 41 between Miami and Naples, about 25 miles west of the Florida Turnpike in Miami): Aspiring Junior Rangers and their families will be treated to a FREE guided tram ride through the Everglades. Seating is limited;reservations will be taken by calling 305-242-7753. Junior Ranger Day registration begins at 9:30 a.m., followed by a two and a half hour guided tram tour. Participants will then gather for a picnic lunch (please bring your own), with time for Junior Rangers to complete their activity guides. At2:00 p.m.we will have a ceremony to award the new Junior Rangers with their badges. Join us for all or part of the day! Additional kid friendly activities will be available for all from 9:30 a.m. to 2:30 p.m.
Royal Palm(located 12 miles west of the main park entrance near Homestead): The Junior Ranger Day event takes place from 10:00 a.m. –3:30 p.m.(open house style) and families may proceed at their own pace. Please register at Royal Palm, and then join rangers stationed along the Anhinga Trail with activities for children. Free transportation and entrance to the park and to Royal Palm is available on the Homestead National Parks Trolley, operating between the City of Homestead and the Royal Palm area every weekend November 28, 2015 through May 1, 2016 (during the busy season). The Trolley schedule is available at this website:http://www.cityofhomestead.com/index.aspx?nid=357
For your safety, visitors are encouraged to consider personal comfort needs and bring water, sunscreen, and appropriate footwear. Junior Rangers are asked to wear long pants, socks and closed-toed shoes. Please note, participants will be asked to sign a photo/video release. Hope to see you and your kids at Junior Ranger Day onApril 2!
For more information and to RSVP, call the Loop Road Education Center at 305-242-7753.
Photo: RangerKate Zylland compares the Junior Ranger's arm length to a bird's wingspan (Junior Ranger Day 2015). NPS Photo.
WHAT:          Annual Junior Ranger Day.
WHEN:          Saturday, April 2, 2016. 
WHERE:       Royal Palm and Shark Valley.
(Click here for directions:https://www.nps.gov/ever/planyourvisit/directions.htm
-EVER-