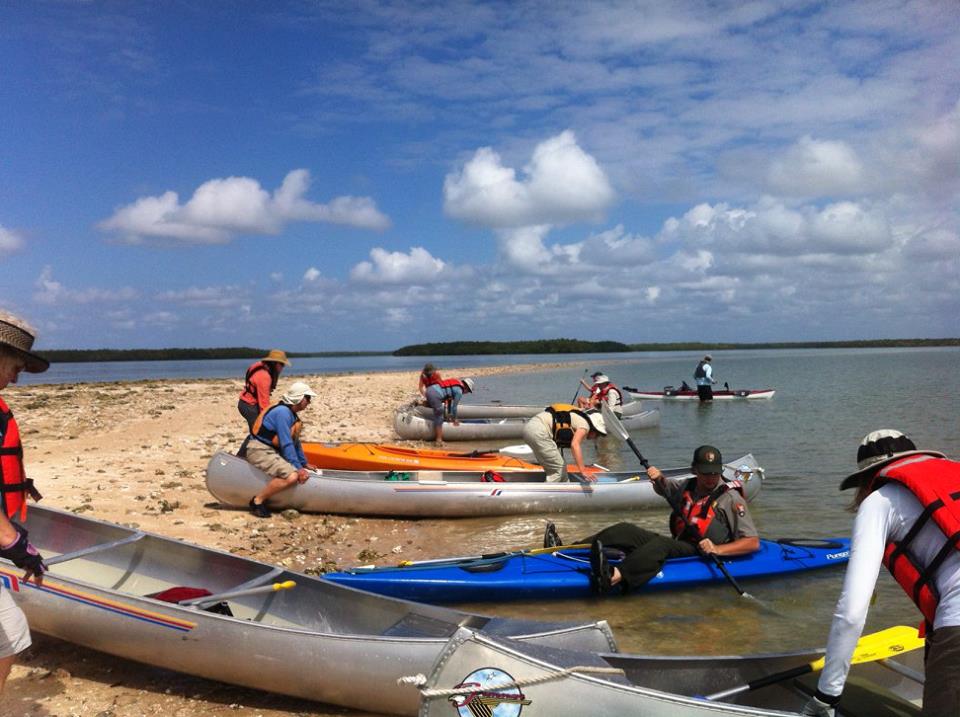 News Release Date:
September 8, 2015
Contact: General Park Information, 305-242-7700
Contact: Katie Corrigan, 305-242-7714
Contact: Mary Plumb, 305-242-7017
Experienced paddlers are invited to join "Ranger–led Canoe Explorations in the Ten Thousand Islands," every Sunday through October. The 4 hour trips will begin at9 a.m.at the Gulf Coast Visitor Center, located at 815 Oyster Bar Lane in Everglades City, Florida 34139.  (These Ranger-led canoe trips had previously been offered everyTuesday.)
This activity is a great opportunity to paddle through the Ten Thousand Islands and learn about the park's cultural and natural history. Participants will learn about the value of the mangroves along the coast, with the possibility of seeing many different animals in their natural environment. There will be opportunities to see wildlife such as dolphins, manatee, osprey, roseate spoonbills, and other wading and shore birds.
The trips are not for beginners, as they are 4-hour paddling trips in wind and tidally influenced water. Participants must be ages 10 and up (with parental approval for minors), and should be prepared with lots of water, lunch/snacks, sun and weather protection. If tide and weather allow, the trip may include a short walk on an island. Also, there is strong potential for rain and thunderstorms throughout the summer. Canoes are available free of charge;kayaks may be rented at the visitor center.  
For more information or to make reservations please call the visitor center at 239-695-3311.