February Coe Visitor Center Art Exhibit
Date:
February 6, 2012
Contact:
General Park Information
, 305-242-7700
Contact:
Media Contact Linda Friar
, 305-242-7714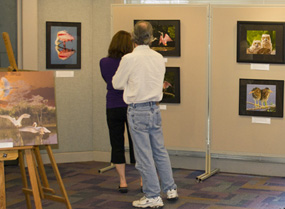 It's time to get outdoors and enjoy the natural and cultural resources of south Florida that abound at Everglades National Park! Plan a day in the park this month and included a stop at the Ernest Coe Visitor Center during your trip to view the art exhibit at the Coe Visitor center featuring the fabulous photography of Susan Schermer
With a passion for nature and for the visual arts, Susan Schermer began studying photography while pursuing a career designing floral décor for weddings and parties. Living in South Florida she was intrigued by the world of plants and animals in the tropics, and began photography as a pastime.
Awed by the beauty of the reefs of the Florida Keys, she began making images with a Nikonos underwater camera and film. Her underwater photographs and articles about dive travel have been published magazines devoted to scuba diving and in the report of the National Marine Sanctuary.
"Eventually, I became amphibian and started working drier environments," she reports. "I especially love to observe animal behavior and so was immediately attracted to the abundant bird life found in this unique environment." Schermer earned certification in the Florida Master Naturalist program of the University of Florida studying Wetlands, Coastal Habitat, and Uplands.
The prints in the Ernest Coe Visitor Center represent the last six years visiting nature reserves, the National Park, and beaches from the Keys to the middle of the State. The prints are made by the photographer on an Epson 3880. Most of the color images are made on Red River Polar Pearl metallic paper or on Epson Premium Luster. The black and whites are made on Hahnemuhle Inkjet photo rag paper. Additional galleries of her images made around the world may be seen on her website at www.susanschermer.com.

Directions: There is no fee to enter the Coe Visitor Center and view the exhibit. The center is open seven days a week from 8:00 a.m. to 5:00 p.m. The main entrance to Everglades National Park is located on State Road 9336, approximately 10 miles southwest of Florida City. It is accessible from Palm Drive (SW 344th St.) off U.S. Highway 1.
Last updated: April 14, 2015