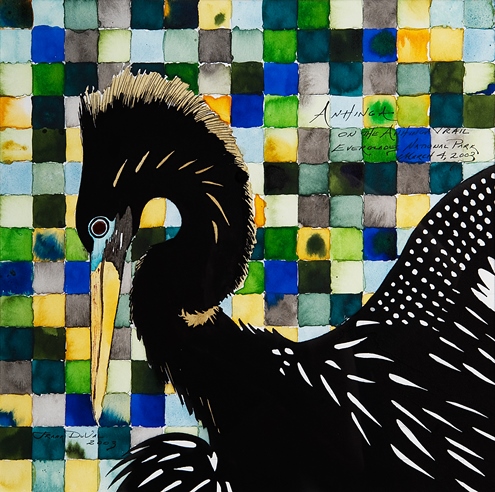 News Release Date:
August 12, 2013
Contact: General Park Information, 305-242-7700
Contact: Program Contact: Kevin Bowles Mohr, 305-242-7752
Contact: Media Contact: Linda Friar, 305-242-7714
 HOMESTEAD, FL: The Ernest F. Coe Visitor Center Gallery is now showcasing works from the Artist-in-Residence-in-Everglades (AIRIE) program. The exhibit features donated works inspired by the amazing diversity of birds in Everglades National Park.
 "In a park known for its spectacular and diverse wildlife, the art and voices of AIRIE artists reveal other unique, and often missed, dimensions of this special place," said Park Superintendent Dan Kimball.
This great program helps the park achieve a goal to incorporate the arts into interpreting America's Everglades.  The artists' work will characterize the Everglades for present and future generations, giving park visitors and the general public an opportunity to see our heritage through the eyes and ears of contributing artists.
AIRIE promotes the use of the arts and literature to contribute to the public awareness and appreciation of Everglades National Park. AIRIE offers artists an opportunity to live and work in this unique environment for one calendar month. Artists donate a work inspired by their residency for the Park collection, creating an outstanding body of nature inspired contemporary art.
Directions: Physical Address - 40001 SR 9336, Homestead, FL 33034
Visitors coming from the Miami area and northern destinations should take the Florida Turnpike (Route 821) south until it ends merging with U.S.1 at Florida City. Turn right at the first traffic light onto Palm Drive (State Road 9336/SW 344th St.) and follow the signs to the park. The Ernest F. Coe Visitor Center will be on the right.
Support for this program comes from AIRIE, Inc., a 501(c) 3 not-for-profit organization with the mission of supporting the AIRIE program at ENP through fundraising and producing special projects. AIRIE, Inc.'s purpose is to inform, connect, and support artists, writers and musicians who wish to be ambassadors for ENP.
America's Everglades -  a World Heritage Site, an International Biosphere Reserve, a Wetland of International Importance,
 and a Specially Protected Area under the Cartagena Treaty in 2012. 
MEDIA NOTE: Photos available on request