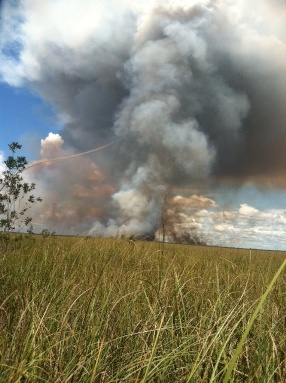 News Release Date:
August 4, 2011
Contact: General Information, 305-242-7714
Contact: Media Contact Linda Friar, 305-242-7714
Everglades National Park firefighters continue to manage a wildfire (Afternoon Fire) that began Monday in the northeast sector of the park. Units from the US Fish and Wildlife Service and the Florida Forest Service have provided additional resources to support this effort.
There was a 3rd lightning ignition starting the South Fire just south of the Afternoon fire and just outside the park boundary late Wednesday . The 2nd lightning strike (Coptic Fire) caused when a storm moved through the area burned a total of 17 acres. Both of these smaller fires are being monitored for flare-ups but are currently inactive. 
A second single engine tanker (SEAT) was added to the resources yesterday to assist in suppression of the fires. Both SEATs are dropping water along the southern boundary of the fire today to prevent fire spreading further south. The helicopter will be working on burning pockets of unburned fuels to reduce potential for flare-ups in the area of the Afternoon Fire.
"As of this morning the total acreage burned in the Afternoon Fire is 9,000 acres and this fire is 70% contained. Firefighters are continuing efforts to put these fires out and anticipate 100% containment by tomorrow, Friday August 5. We expect no closures today for airboat tour operators or US 41 as smoke will be minimal as most of the burning is now is south of the roadway." said Incident Commander Jon Wallace, FWS.
Total Resources dedicated to this fire as of Thursday August 4 include:
17 NPS and 2 FWS Loxahatchee NWR - air and firefighters

2 airboats

1 helicopter

2 single engine air tankers (Including Florida Forest Service)

4 engines (including Florida Forest Service)

Miccosukee and Florida Highway patrol consulted and managed road

-NPS-