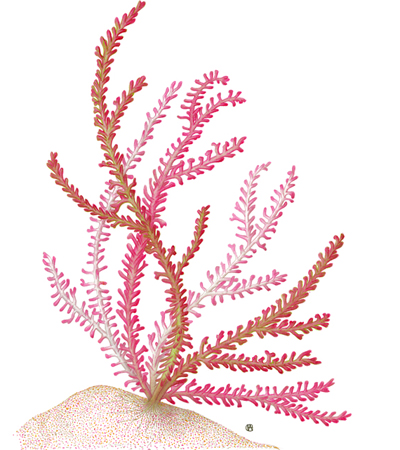 News Release Date:
December 28, 2011
Contact: General Park Information, 305-242-7700
Contact: Linda Friar, 305-242-7714, Media Contact
HOMESTEAD, Florida - The Ernest F. Coe Visitor Center Art Gallery in Everglades National Park will exhibit twenty-nine original watercolors by the Tropical Botanic Artists Collective during the month of January 2012. The Visitor Center exhibition hours are 8:00 a.m. to 5:00 p.m. daily with free admission.
The display represents the three categories of macroalgae-red, green and brown-that were found in Biscayne Bay during "BioBlitz" 2010. The exhibition is a unique blend of the studies of science and art, a combination which is steeped in a very long South Florida tradition. Over 150 years ago, the prisoners at Fort Jefferson, in nearby Dry Tortugas National Park preserved the available vegetation-in this case algae- by pressing them to create their own personal art displays. Three of these herbarium frames are included in the exhibit. In their own way, the Tropical Botanic Artists are continuing this tradition of combining science to create art.
"Tropical Botanic Artists" is a collective of local artists, established in Miami, Florida, in 2006 to pursue the beauty of tropical plants through art. Its members come from all walks of life and each of them brings a unique style and view point to their work. They share their love of the natural world, which is reflected in their admiration for botanical subjects. It is their hope that their viewers will be encouraged to take a moment to observe the wonders of minute detail in plants, in this case macroalgae, and bring these new powers of observation into their everyday lives.
-NPS-