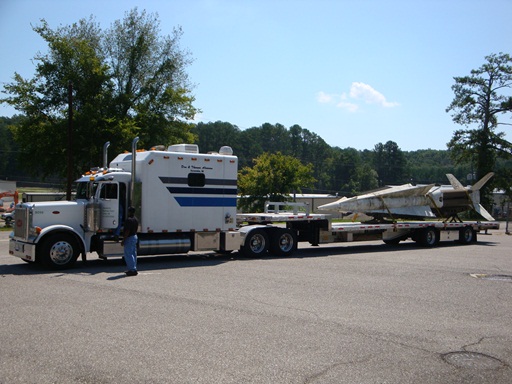 News Release Date:
August 21, 2012
Contact: General Park Information, 305-242-7700
Contact: Media Contact - Linda Friar, 305-242-7714
03/16/Early this morning a decommissioned Nike Hercules Missile was loaded onto a flatbed in Alabama and is now being transported to Florida for restoration by High School students at the George T. Baker Aviation School in Miami-Dade County. Principal Dr. Sean Gallagan has worked closely with Everglades National Park staff to develop this innovative partnership and provide this unique opportunity for his school's aviation students. Once restored, the missile will become an interpretive exhibit on loan to Everglades National Park's Nike Missile Site. The U.S. Army Center of Military History in Anniston Alabama has been key to making this missile available.
Over the next few weeks the students will work to restore this important piece of American history. Once restored the Nike Hercules Missile will return to the site where it once defended the Homestead-Miami area. HM-69 or Alpha Battery is the best preserved south Florida Nike Missile site and is located in Everglades National Park. This site is also listed on the National Historic Register of Historic Places.
The public's first chance to see the refurbished Nike Hercules Missile will be in early October when it is transported and installed in Everglades National Park.
The school expects delivery of the missile on Thursday morning, August 23rd. Media is welcome to be present, however the time of arrival is not exact, is currently estimated to be sometime between 8:00 and 10:00 am. Contact Park Public Information Officer, Leslie Velarde for more details (305-224-4260). Media and the public can follow the progress on this restoration effort on the Park Facebook page htttp://www.facebook.com/evergladesnationalpark.
This interpretive display is being made possible by the generous support from The South Florida National Parks Trust, the U.S. Army Center of Military History, the Nike Historical Society and the Everglades Association.