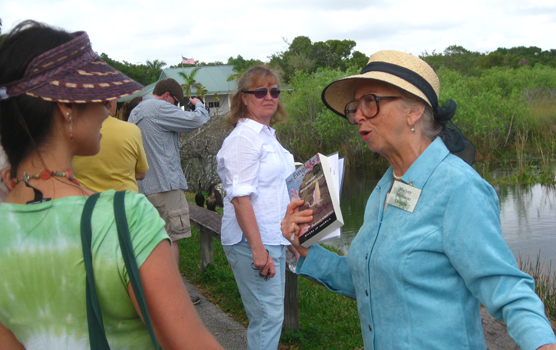 News Release Date:
February 29, 2012
Contact: Linda Friar, 305-242-7714
Contact: General Park Information, 305-242-7700
Meet Marjory Stoneman Douglas in Person
HOMESTEAD, Florida - Experience living history at the Vintage Everglades Day Celebration on Saturday March 3rd, 2012 from 10 AM to 3 PM. Park admission at the Homestead entrance will be waived for the day and all activities are free of charge for the whole family. Chat with Marjory Stoneman Douglas, celebrated activist and author of Everglades: River of Grass. Marjory Stoneman Douglas will be portrayed by reenactor, Barbara Hedges.

Events include historical re-enactors, an old fashioned ice cream social and the Guardians of the Everglades exhibit. This is a great opportunity for young and old to interact with the characters that molded Everglades National Park into one of the most biologically and culturally diverse parks in the world. Stop by the Kids Corner for the Dig into a Gator Hole activity, face painting and pennant decorating.

At Royal Palm, interact with historical re-enactors portraying Calusa and Seminole people, gladesmen, plume hunters, early park wardens, botanists, artists, gator hunters, women conservationists, and political activists.

Cool down at an old-fashioned ice cream social complements of the Everglades Association. Don't forget to bring your camera!

Fees and Directions:
This is a fee free day at the Homestead entrance of Everglades National Park. Fees will be collected at the Shark Valley park fee station.

Board a red bus at the Ernest F. Coe Visitor Center, courtesy of the Everglades Association and La Ley Sports. A "bussette" will be your guide to Everglades history on your ride to Royal Palm.

Visitors coming from the Miami area and points north should take the Florida Turnpike (Route 821) south until it ends merging with U.S. 1 at Florida City. Turn right at the first traffic light onto Palm Drive (State Road 9336/SW 344th St.) and follow the signs to the park. Visitors driving north from the Florida Keys should turn left on Palm Drive in Florida City and follow the signs to the park.
-NPS-