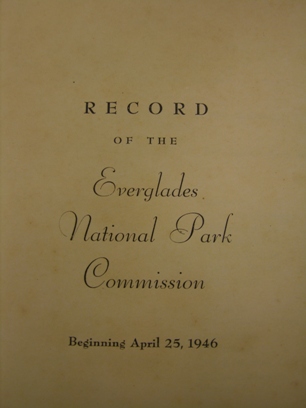 News Release Date:
April 8, 2010
Contact: Linda Friar, 305-242-7714
Contact: Nancy Russell, 305-242-7826
The museum collection at Everglades National Park has purchased an important addition to its museum archives, a leather-bound book featuring the original "Records of the Everglades National Park Commission Beginning April 25, 1946".
The volume contains the minutes of the Everglades National Park Commission, beginning with its organizational meeting on April 25, 1946 and includes minutes from sub-committees such as the executive and dedication committees. The minutes include comments by a wide variety of Commission members and special guests, including: Governor Millard F. Caldwell, August Burghard (chairman), Mr. Gilbert D. Leech (managing director), John Pennecamp, Daniel B. Beard, Mrs. May Mann Jennings, Senator Spessard Holland, among others. "These records provide important information about the Commission's operation, legislative wrangling, the processes being followed, and the key players in the final push to establish the national park" said Russell.
The park purchased the volume from Mrs. Joanne Lord of Miami, Florida. Jim Lord, her husband, found the book at a small used book shop in Gainesville in December 1992. Mr. Lord was a lover of local and Florida history and an active member of the Archeological Society of Southern Florida. He was amazed when he opened the book and discovered it contained original typed minutes from the Everglades National Park Commission. Recognizing its historical value, Mr. Lord purchased it on the spot. Although Mr. Lord passed away in 2003, his family continued to care for the book.
At the request of the family, Brian Conessa from the archeology society recently contacted the park about its interest in acquiring the book for its archives. Like Mr. Lord, the park's Museum Curator Nancy Russell immediately recognized the importance of the records. "These records fill a gap in our existing collection" said Nancy Russell, museum curator at the South Florida Collections Management Center (SFCMC) which manages the museum collections from Everglades, Dry Tortugas, and Biscayne National Parks, De Soto National Memorial, and Big Cypress National Preserve.
When processing of the new addition is completed, the full text searchable digital files will be posted on the park's website (www.nps.gov/ever) for public viewing and research.
The park's museum archives are open to researchers by appointment which can be made by contacting the archivist at 305-242-7804. Members of the public who have documents, photographs or objects that they believe may be of interest to the park should contact the curator at 305-242-7826.
-ENP-