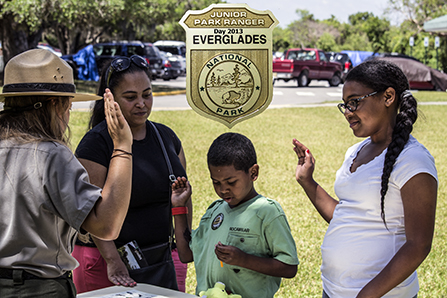 News Release Date:
March 11, 2014
Contact: General Park Information, 305-242-7700
Contact: Media Contact Linda Friar, 305-242-7714
Contact: Environmental Education, 305-242-7753
Pack up the kids and head to the park for Junior Ranger Day on Saturday, March 22, 2014. This annual event is a great opportunity to enjoy Everglades National Park with your entire family.A day of Ranger guided activities and fun in the park at both Shark Valley and Homestead entrances offers families and youth a special opportunity to enjoy this national park just minutes away from our urban neighbors.
The Junior Ranger program is a national program designed specifically to enhance the national park experience for kids and families who visit National Park Service sites. Through hands-on, guided, and self-guided activities this program connects young people to their national parks and cultivates future generations of park stewards and explorers.
Junior Ranger Activity Guides are available in English, Spanish, and Haitian-Creole and may be obtained at any of the park visitor centers or downloaded from our website. The program is designed for kids 8-12 years old, but is available to kids of all ages! (https://www.nps.gov/ever/forkids/beajuniorranger.htm).
Rangershave many special activities planned for this year's Junior Ranger Day at the park and earn kids who participate will earn their own Junior Ranger badge and patch! Come join us on March 22 to "Explore, Learn, and Protect" your national parks! Admission to Everglades National Park will be free for families participating in the Junior Ranger Day event.
When: March 22 9:30 A.M. to 2:30 PM
Where: 2 locations - Shark Valley/Miami and Royal Palm/Homestead
What: Junior Ranger Day
 Shark Valley Visitor Center – US Highway 41, 25 miles west of the FL Turnpike
Aspiring Junior Rangers and their families will be treated to a FREE guided tram ride through the Everglades. Seating is limited so reservations must be made in advance by calling 305-242-7753.
Registration begins at 9:30 a.m., followed by a 2.5 hour guided tram tour. Participants will then gather for a picnic lunch (please bring your own), with time for Junior Rangers to complete their activity guides.
At 2:00 p.m. we will have a ceremony to award the new Junior Rangers with their badges. Join us for all or part of the day! (Please note, participants will be asked to sign a photo/video release.)
Short ranger talks, guided walks, a touch table, and exhibits for kids will be available for all from 9:30 a.m. – 2:30 p.m.
 Royal Palm – 12 miles west of Homestead.
·An Open-House style event begins with registration at Royal Palm Visitor Center adjacent to the Anhinga Trail.
·Rangers will be stationed along the Anhinga Trail at Royal Palm with activities for children.
·Event takes place from 9:30 a.m. – 2:30 p.m. Families may proceed at their own pace.
For more information and to RSVP, call the Loop Road Education Center at 305-242-7753.