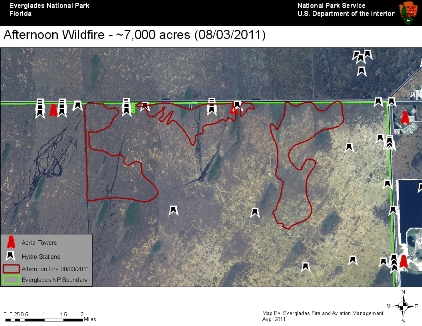 News Release Date:
August 3, 2011
Contact: General Park Information, 305-242-7700
Contact: Media Contact Linda Friar, 305-242-7714
Everglades National Park firefighters continue to manage a wildfire that began Monday in the northeast sector of the park. Units from the US Fish and Wildlife Service and the Florida Forest Service have provided additional resources to support this effort.
The firefighters are currently managing this fire to ensure visitor and staff safety and minimize the unwanted spread of fire towards resources at risk, highway 41, and airboat tour companies, as well as any other landowners in that area.
Due to the types of fuel (potential burn prone vegetation) in the area along with the predicted weather, a burn out operation was initiated Tuesday and continues today (Wednesday August 3) in this area to combat the fire. Burnouts are purposely ignited fires designed to safely remove fuel in advance of a wildfire front. If the burnout is successful, advancing wildfire runs out of fuel and stops.
A total 7,000 acres were burned Tuesday and the burnout will continue today as pockets of unburned fuel are burned within the area reducing wildfire threat to any of the structures and values at risk.
Florida Highway Patrol and the Miccosukee Tribe of Indians continue to manage intermittent road closures and traffic congestion resulting from smoke and fire close to US Highway 41. The airboat tour companies along 41 will experience intermittent closures of their trails to ensure the safety of the passengers during portions of the burnout.
"This burnout has been successful in keeping this wildfire from reaching the developed areas adjacent to the park and minimizing the impacts to visitors and residents of the area, "said Incident Commander John Wallace. "We are hopeful that this fire will be completely contained by the end of the day."
Total Resources dedicated to this fire include:
15 EVER crew - air and firefighters

2 airboats

1 helicopter

1 single engine air tanker

4 engines (including Florida Forest Service)

Misc. Overhead support from FWS Loxahatchee and
Miccosukee and Florida Highway patrol consulted and managed road.
UPDATE- A second lightning strike just south of the original strike, ignited another fire earlier today. A single engine air tanker capable of dropping 700 gallons of water on the fires has been added to the resources dedicated to the fire.